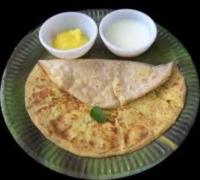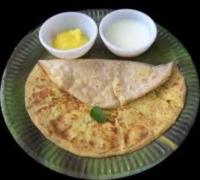 Puran Poli
Ingredients :
1 cup chana dal
1 cup sugar
1½ cups maida
1 pinch kesar powder
1 tsp turmeric powder
8 tbsp oil
2-3 cardamom pods
Method :
Sieve maida. Mix kesar powder in ½ cup water and mix it with maida.
Knead well using a little oil to make a soft dough.
Keep aside for 1 to 2 hours.
Wash chana dal and allow it to boil in water till it becomes soft.
Decant water on top. Put sugar to the cooked dal.
Turn over constantly, till it forms a lump.
Grind to a smooth paste, without adding water.
Before removing, put cardamom and grind for some time.
Puran is ready.
Make lime-sized pellets of 'puran' and an equal number of pellets of the 'dough'.
Dust the latter with maida and roll into small puris.
Keep a pellet of 'puran' on each puri.
Enclose it fully with the puri, by folding up the edge all around.
Spread a newspaper on wooden board.
Roll the poli balls on it, into puris.
Keep chapathi tawa on a low flame.
Roast polis on both sides gently, 2 to 3 at a time.
Lay the roasted puran polis on a clean piece of cloth.
Ready to serve.