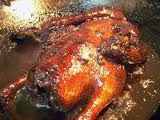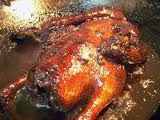 Braised Duck
Ingredients:
1 x 4 lb duck, cut into serving pieces
5 tbsps soy sauce
4 tbsps oil
3 scallions
4 slices ginger root
3 whole star anise
1 tsp black peppercorns
2 tbsps dry sherry
4 dried Chinese mushrooms, soaked for 20 minutes, drained and stemmed
1 cup sliced canned bamboo shoots
2 tbsps cornstarch dissolved in 2 tbsps water
2 to 3 scallions to garnish
Directions:
1. Rub the duck pieces with a little of the soy sauce. Heat the oil in a pan and add the duck pieces. Fry, turning, until golden brown on all sides.
2. Transfer to saucepan and add the scallions, ginger, star anise, peppercorns, dry sherry, the remaining soy sauce and sufficient water to cover. Bring to the boil, then reduce the heat and cover. Simmer for 1 ½ to 2 hours or until the duck is tender, adding the mushrooms and bamboo shoots 20 minutes before the end of the cooking time.
3. Add the cornstarch mixture to the pan. Stir until the liquid has thickened. Serve hot, garnished with scallions.