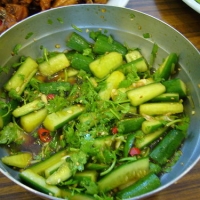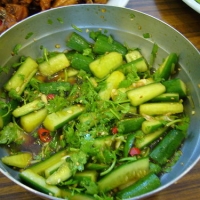 Chinese Cucumber Salad
Ingredients:
300g baby cucumber
2 pcs mung bean powder made jelly
Pinch of salt
Seasonings:
100g passion fruit jam
50g white vinegar
A little sesame oil
Directions:
Rinse and slice baby cucumber. Mix with a pinch of salt and set aside for thirty minutes. Squeeze out salted juice.
Cut mung bean powder made jelly and separate each piece in cold boiled water.
Mix well all ingredients with seasonings.