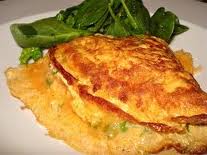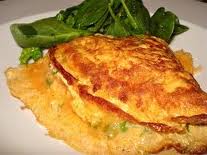 Pork Omelets
Ingredients:
4 eggs, lightly beaten
½ cup cooked pork, diced small
¾ tsp salt
2 tbsp chopped leek
¼ tsp MSG
¼ cup broth or water
3 tbsp oil
Sauce:
1 tbsp soy sauce
1 tsp sugar
1 cup broth
1 tbsp cornstarch
½ tsp salt
1/6 tsp MSG
Directions:
Mix beaten eggs with pork, salt, leek, MSG and broth. Divide mixture into 4 portions and fry in 3 tbsp oil. Fold over and fry until done. Remove to a plate.
Mix all sauce ingredients except cornstarch and bring to a boil. Add cornstarch for thickening.
Pour sauce over omelets and serve hot.