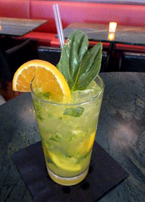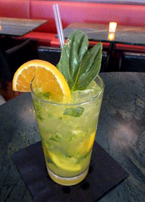 Orange Basil Margarita
Ingredients:
3 oranges
1/2 cup sugar
4 -5 fresh basil leaves
1/2 cup water
2 cups gold tequila
4 cups sour mix
3 limes
ice
Preparation:
Place the water and sugar in a microwave safe bowl. Zest the oranges with a vegetable peeler and add to the bowl. Stir. Heat the mixture in the microwave until it is boiling and the sugar is dissolved. Crush the basil to release its flavor and add to the bowl, allowing the mixture (syrup) to cool. Add the sour mix to the pitcher. Place a fine mesh strainer over the pitcher and squeeze the zested oranges and the limes through it. Pour the syrup through the strainer into the pitcher. Add the tequila and ice. Serve with orange slices and garnish with basil.