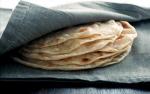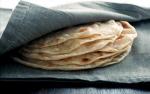 Flour Tortilla
Ingredients:
1/2 teaspoon salt
1/4 cup vegetable shortening or 1/4 cup vegetable oil
1 teaspoon baking powder
1/2 cup warm water (may possibly need to add more, up to 3/4 cup) or 1/2 cup milk (may possibly need to add more, up to 3/4 cup)
2 cups flour (you can get creative with your flour choices like whole wheat, spelt, soy, or a mixture of flours)
Preparation:
Sift the flour, salt & baking powder into a large mixing bowl. Into the dry ingredients cut in the shortening, or add oil if you are using this option, & mix with your fingertips to combine. Add the milk or water, working the liquid into the dough until a sticky ball forms. Wrap in plastic and let rest for at least 30 minutes. Divide the dough into 8-10 balls (for small tortillas) or 6-8 balls for larger ones, cover them again with the damp cloth. Lightly dust a counter or pastry board w/flour & roll out each ball of dough into a circle or oval approximately 1/4″ thick. If you want nicely rounded tortillas, trim off any ragged edges & discard. Don't roll the dough out more than once or the tortillas will be tough. Heat a dry griddle or heavy skillet over high heat for 5 minutes. Cook the tortillas 30 seconds on each side or until the dough looks dry & slightly wrinkled & a few brown spots form on both surfaces. Do not over cook or they will be hard. Butter and roll up and wrap in damp tea towel to keep warm as you cook the other tortillas. Serve warm.