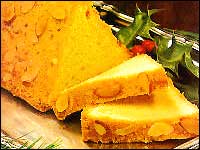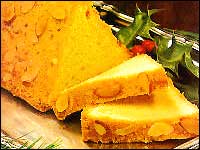 Almond cakes are most certainly the king of cakes!
Serves: Makes 28 small cookie size cakes
Ingredients:
2 cups blanched almonds
1 1/3 cups sugar
1/2 cup all-purpose flour
1 teaspoon rose water (optional)
3 egg whites
Vegetable cooking spray
Method:
1. Place almonds in food processor, and process until finely ground.
2. Add sugar and flour; process until blended.
3. Add rose water and egg whites; process until well-blended (the mixture will be very thick).
4. With floured hands, shape the dough into 28 balls, and place 2 inches apart on baking sheets coated with cooking spray.
5. Bake at 325 degrees for 28 minutes or until crisp on the outside and soft on the inside; cool on racks. It makes: 28 cookies (serving size: 1 cookie).