Welcome to Hype Machine, our hit-list of the top reviewed products across the web — according to a crowd of die-hard shoppers. Call this your 4-star & up only club, with entry granted by our devoted-to-the-goods shop editors.
Update: Thank you for all of your amazing input in the comments. We've since updated our story with a few popular options.
Black leggings, divisive as they are, have undeniably become a fashion staple. So much so, there are brands (apart from LulaRoe) dedicated to delivering the "perfect" legging. But with the range of styles out there — cropped, not cropped, high-rise, mid-rise, faux leather, leggings with pockets (!!!), performance, loungewear — choosing which ones are right for you takes some thought.
Like with most things, turning to the internet is your best bet when you need to comb through the infinite options available. We've curated a roundup of the top-reviewed black leggings across the world wide web. Covering everything from the best budget leggings to leggings you can wear to work (yep), this list is bound to help you find your black leggings OTP. Click through to see which leggings come out on top.
Promote your product line on a page similar to this. Contact matt at oyetimes.com for more details.
​

Zella: The Essential Legging

Few legging brands see as much public praise as Zella. The Live In high-waist leggings tout moisture-wicking technology great for running at the gym or running errands.
The hype: 4.7 out of 5 stars and 6,286 reviews on Nordstrom
What they're saying: "These leggings really live up to their "live in" name. They are so comfortable, I didn't want to take them off! (I actually wore them two days in a row.) The material is super buttery soft and thicker so you don't have to worry about underwear showing through. Also, the little pocket in the front is perfect for keys, smaller phones (no Iphone7 plus), cash—basically anything you don't want to/can't carry. I have heard complaints about them being too hot, but I have worn them in 90+ degree weather and didn't feel like they were uncomfortable or unbearably hot. They are super durable and I am sure they will last me a long time." – BRD975, Nordstrom Review
Zella Live In High Waist Leggings, $, available at Nordstrom

Athleta: The Elongating Legging

With a classic high waist and ever-so-slightly longer inseam, these super-compressing Athleta leggings will lengthen and strengthen just as effectively as your daily downward facing dog.
The hype: 4.6 out of 5 stars and 1,132 reviews on Athleta.com
What they're saying: "Great multi purpose tights. I am 5'9", 145 lbs and ordered size medium, tall. The fit is excellent and I appreciate the somewhat longer length and comfortable high waist on these tights." – Frederica, Athleta review
.
Athleta High Rise Chaturanga Tight, $, available at Athleta

Leggings Depot: The Best Budget Legging

Ballin' on a budget? These under $15 leggings on Amazon come with a plethora of rave reviews.
The hype: 4.3 out of 5 stars and 14,151 reviews on Amazon
What they're saying: "Soft, comfortable, flattering, and long-leg-friendly. I am 6'0" and medium build with a 34" inseam and these hit right at the top of my ankle bone—a very satisfactory and versatile length for a legging. The fit is sleek in a good way, hugging curves without being either too-tight and revealing or too loose and baggy. I have the black color and it is dark and opaque enough to wear a more cropped shirt with if desired. No see-through sections at all. The waist is high, hitting right at my natural waistline. I'm partial to a high waist (and this is the point in the review where I out myself as a mom of 5), but if you want a lower rise these may not be the leggings for you. Overall, I am very happy with these and would consider ordering additional pairs or colors. They replaced a pair of dying big box store leggings and totally blew them out of the water in fit and quality, at the same price point!" – Munchasaurus, Amazon Review
Leggings Depot Basic Solid Leggings, $, available at Amazon

C9 Champion: The Performance Legging

When you're in need of actual "workout" leggings, turn to these. This performance pair comes with a high-waist and a nifty little side pocket to hold your cell phone in.
The hype: 4.6 out of 5 stars and 661 reviews on Target
What they're saying: "This is a great tall girl legging option which other tall girls will know, are extremely hard to find. I am 6 ft, size 6 sometimes 8, and mediums are actually long enough and fit great. I bought 2 pairs and went back for 3 more because long leggings at such a reasonable price point is so rare. I use them mostly for lifting and cardio, but also prefer them to any other leggings for travel. The pocket is a huge plus, perfect size for an iPhone to listen to your music by Bluetooth while lifting. Please never discontinue these Target, its so hard for us tall girls to find leggings long enough, let alone ones that will hold up over time." – bcsideout, Target Review
C9 Champion Training High-waisted Leggings, $, available at Target

Everlane: The Work Appropriate Legging

Leggings to work? 500 Everlane reviewers say, "Yes!" These stretchy, yet structured, leggings are just the trick to feeling comfortable during your 9-to-5.
The hype: 4.53 out of 5 stars and 2,924 reviews on Everlane
What they're saying: "I bought these in black a few months ago and just bought them in green and blue as well. They are the perfect work pant — stretchy, wrinkle free, and comfortable! The side zip makes untucked shirts lay smoothly, and the elastic waistband gives you versatility if you do want to tuck your shirt… I've never been happier with a work pant!" – Katharine M, Everlane Review
Everlane The Work Pant, $, available at Everlane

Adidas: The Classic Athleisure Legging

These best selling leggings are almost ubiquitous within the leggings fan community. To achieve the true athleisure look, opt for this classic Adidas pair.
The hype: 4.6 out of 5 stars and 2,779 reviews on Adidas
What they're saying: "Bold leggings that fit perfectly, don't get a size too small if you're between two. Always go for the larger one! They look great and I can't wait to wear them with my superstars" – Auorora, Adidas Review
Adidas 3-stripes Leggings, $, available at Adidas

Gap: The Lounge Legging

Looking for a pair of leggings that are as basic as they come? Look no further. This tried and true Gap pair will have you buying more than one so you can keep them in constant rotation.
The hype: 4.5 out of 5 stars and 567 reviews on Gap
What they're saying: "I own 5 pairs of these. Two are in constant rotation and three are back ups because I'm afraid Gap will stop making them. They are quite long which is no problem because I always wear them inside boots. I find they fit large overall side I sized down. I take care not to wash them with anything cotton or light colored, and I *try* to hang them to dry after putting them through the machine. They are holding up very well. I highly recommend them as a basic sytle [sic] but really good legging." – MsdotQ, Gap Review
Gap Basic Leggings, $, available at Gap

Viv Collection: The "One Size Fits All" Legging

This pair comes in only two sizes and a whole host of positive reviews. You can choose from the regular size which fits sizes 0 through 12, or the plus size which fits sizes 14 through 24.
The hype: 4.3 out of 5 stars and 4,227 reviews on Amazon
What they're saying: "I think after purchasing 6 pairs of these it's time to offer some feedback on them. These leggings are amazing!!! I held off on trying them for such a long time and wish I would of gotten them sooner!! They are soft and feel great. Even better than the ones ppl sell on Facebook!! Some ppl don't like the waistband but their yoga leggings have the wide waistband made of fabric is the elastic one is not your thing. They hold up well even after several washes. I never got a defective pair and I own 6 so far. Most are solid colored ones. I haven't gotten random holes in them. They even withstood my kittens digging their nails into them. Which for me is the ultimate test LOL. Seriously though, they're inexpensive, fit great (I got the regular fit not plus) and have a huge selection of colors and prints to choose from. For reference I have thick legs and thighs and usually wear M or L (depending on manufacturers) leggings. I've recommended these to a lit if ppl on social media and they all loved them…" – LC78, Amazon Review
Viv Collection Soft Leggings, $, available at Amazon

Carbon38: The Luxury Legging

Who said leggings couldn't be luxurious? The Takara legging comes in a glossy liquid finish for that perfect model-off-duty look.
The hype: 4.52 out of 5 stars and 541 reviews on Carbon38
What they're saying: "These leggings are amazing! I am so happy I finally found a style/size that fit amazing (I'm 5'6, 125lb, and the XS fits perfectly). I tried the High-Waist Takara Leggings in two different sizes and the waistband on that style is way too uncomfortable and high, regardless of size. The regular Takara Leggings have a fairly high waistband with a super flattering and comfortable fit anyway, which makes these are the perfect leggings for working out and wearing around town!" – Jackie, Carbon38 Review
Carbon38 Takara Leggings, $, available at Carbon38

Spanx: The Going Out Legging

If you're of the "ride or die" variety when it comes to leggings, then you'll know they don't have to be reserved for just the day time. These faux leather leggings are your Friday nights' new best friend.
The hype: 4.5 out of 5 stars and 2,644 reviews on Nordstrom
What they're saying: "I've been looking at these leggings for over a year! I wanted them but wasn't sure I could justify the cost for "leggings"… seriously, don't even think twice! They are amazing!! The can be dressed up or down so easily! they are so comfortable and really do compress/smooth in the right places!!! I immediately ordered the motto [sic] style the day these came because I love them so much! I am 5'5" 140lbs and ordered a medium! They fit great!" – Harlihol, Nordstrom Review
SPANX Faux Leather Leggings, $, available at Nordstrom

Hue: The Basic Legging

Comfort is key. And that's exactly how these reviewers on Zappos feel about this classic pair from Hue.
The hype: 4.9 out of 5 stars and 163 reviews on Zappos
What they're saying: "Pretty much the gold standard in "basic" leggings. These are TOTALLY opaque (nobody's gonna see your underwear or anything else, even if you're bending down etc.), extremely comfortable (you might as well be wearing pajama pants, they're truly that comfy), and the wide waistband is a godsend to all of us, let's be honest!…I feel like the waistband needs to be talked about, because I've worn other brands with wide waistbands that don't work well for me (the waistband rolls down, doesn't stay where it's supposed to, is placed/sits at an odd length, etc.). None of those problems with these! You put that waistband right where you want it and it's gonna stay there and hold you in and it will not ride up or down!…And you can wear these with ANYTHING! Casual with t-shirts, I wear them at work with blouses and blazers, tunics, underneath dresses or skirts, at the gym, as pajamas (I do, they're so comfy!)…" – Anonymous, Zappos Review
HUE Ultra Leggings w/ Wide Waistband, $, available at Zappos

Girlfriend Collective: The "So Good It Launched An Entire Brand" Legging

Girlfriend Collective may have only launched in 2017, but thanks to these comfortable leggings made from recycled plastic bottles, it's already gained a cult following.
The hype: 4.8 out of 5 stars and 2,644 reviews on Girlfriend Collective
What they're saying: "I saw the reviews too. I was skeptical too. I thought "they're just a pair of leggings, why are people so obsessed?" too. But they are. They really are just the best leggings. They have the perfect amount of compression – enough to keep you together but not a battle to get in to. They're the perfect rise. They don't go sheer. They don't pill. They just work so well. I don't even notice I've sweat in these. I love." – Madeline G., Girlfriend Collective Review
Girlfriend Collective Black Compressive High-rise Legging, $, available at Girlfriend Collective

Lululemon: The Popular Legging

Lululemon can take a good chunk of credit for kickstarting the athleisure trend. While not the most popular leggings from the brand, this pair has seen the most consistent positive reviews.
The hype: 3.2 out of 5 stars and 960 reviews on Lululemon
What they're saying: "The Fast and Free tights are hands down my favorite and best tights Lululemon has to offer. The tights have a moderate compression around the waistband and has an adjustable waist string to tighten during your runs. They are lightweight and feel like a second skin. I wear these tights for yoga, strength and conditioning, everyday wear, and for running. The side pocket is a great feature, especially when running to hold your phone. I am 5'2 and the length of the tights fit me perfectly so I don't have to get them hemmed. My only complaint about these tights is that darker colors will fade slightly and the light sheen will fade, but other than that I would recommend these tights to everyone." – Shavasanaallday, Lululemon Review
lululemon Fast and Free Tight II 25" Non-Reflective Nulux, $, available at lululemon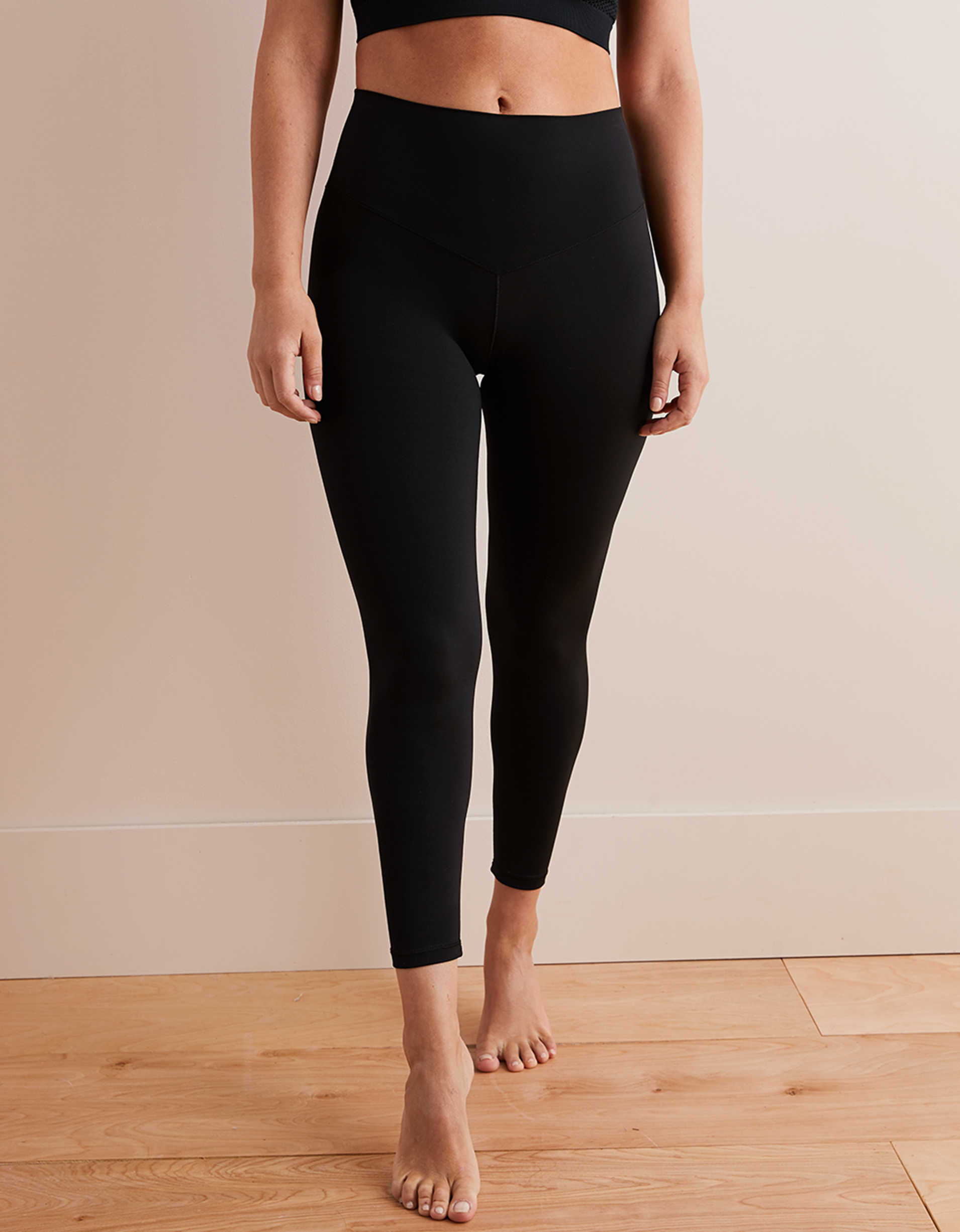 Aerie: The Super Soft Legging

If you're looking for leggings that are equally soft and stretchy, look no further.
The hype: 4.8 out of 5 stars and 2,173 reviews on American Eagle Outfitters
What they're saying:
"These are the most comfortable leggings I've ever worn. They stay in place while running, they're squat proof, and they're beyond comfortable just to wear around the house. After wearing my first pair I immediately went and ordered in every color." – LLAPIC42, American Eagle Outfitters Review
Aerie Play Real Me High Waisted 7/8 Legging, $, available at American Eagle Outfitters
Click HERE to read more from Refinery29


Loading ...