This article was last updated on May 27, 2022
Canada:

Oye! Times readers Get FREE $30 to spend on Amazon, Walmart…
USA:

Oye! Times readers Get FREE $30 to spend on Amazon, Walmart…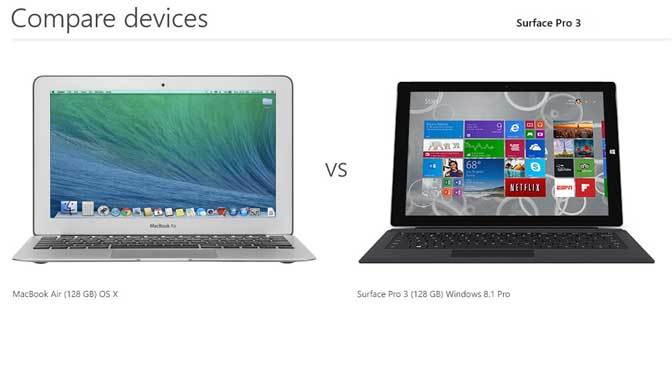 Microsoft is offering students and teachers $150 off a Surface Pro 3 until September 3rd – how does that compare with a MacBook Air?
By Stephen Pate – Microsoft has compared the Surface Pro 3 to the MacBook Air but most reviewers are not buying the value proposition. While the base price is same for both devices at $999 for the i5 processor, there are some gotchas that can raise the price like the $129 Surface keyboard or Windows license for the MacBook Air.
Microsoft has sweetened the deal by dropping $150 off the retail price for students and teachers until September 3rd to increase the value. Apple dropped the price of the MacBook Air by $100 on a weekly sale basis. Let's see how the two devices stack up.
Is Windows your main operating system?
First we should admit that Windows users are better served with a Windows laptop than a Mac. There are 1 billion people using Microsoft Office and 1.5 billion people using Windows around the world. If you or your company uses Windows, it's generally easier to stick with the platform for security, ease of use and connectivity.
For instance, if you run Windows on your desktop, you can often share the license for software with a laptop. Using Windows everywhere reduces the need to train on new operating systems and applications.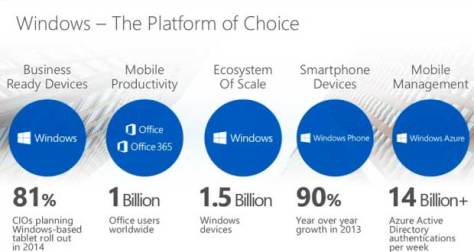 You can run Windows on a Mac but you need a $100 Windows 7 Home Premium SP1 64bit license plus the inconvenience of running two operating systems on one computer. However, some technically adept people like that level of complexity.
Surface Pro 3 to MacBook Air comparison
The Surface Pro 3 is a tablet which means it has touch screen and can be used without a keyboard, although I'll bet it is used more with and without. The MacBook Air is not a touch device and is a notebook.
The discounted price for the Surface Pro 3 is restricted to students and faculty of schools. The MacBook Air discount applies to anyone and ends August 7th but I expect it will be repeated.
The Surface Pro 3 has a 2K resolution screen and the MacBook Air is something between HD and 720P.
Both computers have the same storage and memory and you can buy faster and bigger versions of each. For comparison purposes, I picked the i5 versions, and for the Surface Pro 3 is faster. The Surface Pro 3 also sells an i3 version for $649 (USA) base if you want to save money.
With the keyboard, the Surface Pro 3 is slightly lighter and thinner than the MacBook Air.
The Surface Pro 3 has much better cameras and two of them.
The MacBook Air works well for people who like Apple and the Surface Pro 3 gives Windows fans a chance to have hardware at the same or better level of performance.
Most of the reviewers have said the MacBook Air is better than the Surface Pro 3 but I never believe reviewers who carry their own bias into these stories.
I have a Surface 2, which got bad reviews, and love it. I use it every day all day long. Reviewers don't know anything in my book.
I was interested to read a story by a woman in Neowin who said she and her co-workers liked the Surface Pro 3 and ordered them for work. The lay(wo)man's review of the Surface Pro 3.
"She had been using an iPad/laptop setup for years. So, to even think about wanting to use the Pro 3 set me back a little bit but it paid off. She loved the Pro 3, but more so, her co-workers who traveled with her loved it as well – so much so, in fact, that her department is looking into purchasing a few, which is the ultimate win for Microsoft, when it comes to people trying out their device.
The fact that the Pro 3 met the needs of my wife while traveling and that she would recommend the device to others – over an iPad and laptop setup – is precisely the kind of scenario that Microsoft would have hoped for when developing the device. The previous iterations, like the Surface RT or Pro 2, did not receive such praise from her as the Pro 3. "
Feature
Surface Pro 3
MacBook Air
Base Price
$ 1,049
$ 999
Extras
$ –
$ 99
Windows 7
Keyboard
$ 117
$ –
Office 365
$ 69
$ –
Discount
-$ 150
-$ 100
Net Price
$ 1,085
$ 998
Screen
12&Prime
11.6&Prime
Resolution
2160 x 1440
1366 x 768
RAM
4 GB
4 GB
Storage
128 GB
128 GB
Free Cloud
15 GB
5 GB
Processor
i5
i5
Speed
1.9 GHz
1.4 GHz
Video
HD4000
HD5000
Weight
1.0 kg
1.08 kg
Touch
Yes
No
Office 365
No
Yes
OS
Windows 8.1
Mavericks OSX
Battery
9 hours
9 hours
Webcam
Two x 5MP
720p
Here's the link for the Surface Pro 3 student and faculty pricing.
Caveat
It's good to see Microsoft being competitive over pricing with the Surface Pro 3. They are learning that Apple can match them dollar for dollar. It would be better in Microsoft gave everyone the same price and not just students.
Microsoft will lose sales to Apple if they don't price competitively. It's a lesson Microsoft has not learned yet in pricing its tablets, which is probably why they are not selling well.
Follow me on Twitter at @sdpate or on Facebook at NJN Network, OyeTimes and IMA News Buzz. You can also subscribe and receive notifications of new stories by email.
By Stephen Pate, NJN Network
You can publish this article on your website as long as you provide a link back to this page.