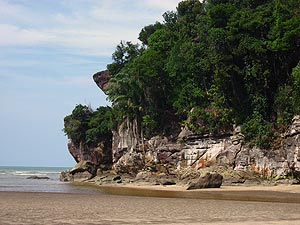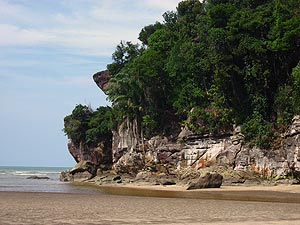 The saying that all good things come in small packages is especially true for Bako National Park. One of the smallest and oldest parks in Malaysia, Bako National Park covers an area of 2,727 hectares. It was established in the same year Malaysia gained its independence and was opened to the public on May 4, 1957. Because of its proximity to Kuching, it is a popular destination for those visiting Sarawak's capital.
The natural wonders which await the park's visitors are simply amazing to behold. Magnificent sea stacks, rock formations sculpted by Mother Nature over the years, can be seen towering above the waves to greet visitors as they make their way to the park. The park also houses an astounding variety of plants which exist only on Borneo. Nature lovers will be delighted to know that almost every species indigenous to the island can be seen in the park.
For an unforgettable wildlife experience, one does not need to look further than Bako National Park. As the park has been protected for over half a century, most of the animals have grown used to the presence of humans. This makes capturing wildlife images much easier as the animals go on with their daily activities even with people around them. The rare proboscis monkey, which is only found in Borneo, can also be seen in this park. Currently, some 150 proboscis monkeys call Bako National Park their home.
For adventurous visitors seeking a good physical challenge, Bako National Park also boasts a wide range of trails with different difficulties, suitable for different age groups and fitness levels. At the end of these trails, hikers will be rewarded with awesome views of the park from different heights, secluded beaches and even a waterfall! Bird lovers will think that they have found a veritable paradise when they find that there are about 150 species of birds recorded at the national park. If you're a bird watching enthusiast, don't forget to bring those binoculars!