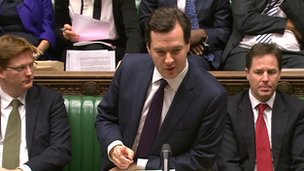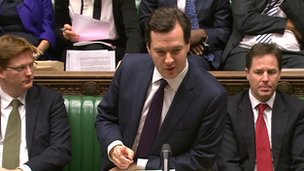 U.K. Chancellor, George Osborne has delivered in his Autumn statement to the Hose of commons that British economy is healing but the growth is weaker than expected, still the economy is "on track". He has insisted that there were "no quick fixes" for economy.
The Office for Budget Responsibility has forecasted that the economy is expected to shrink 0.1 percent this year and grow by 1.2 percent next year, down from its 0.8 percent and 2 percent growth forecasts in March.
Despite weaker-than-expected growth pace, Mr. Osborne is determined to press ahead with the coalition's deficit-cutting strategy, claiming: "It is a hard road but we are getting there. Britain is on the right track and turning back now would be a disaster."
Mr. Chancellor has emphasized on the Government's need 'to raise more' from the wealthy but rejected the idea of a new "mansion tax" on expensive properties.
Focusing on the fairness of welfare system to the "working class paying for it", Mr. Osborne has argued that unemployment allowance had raised at twice the rate of employed individuals. So the benefits now would increase 1 percent next year for the next three years, much lower than the expected 2.2 percent for 2013-14. This will help in saving £3.7bn a year by 2015-16.
Mr. Osborne has also indicated that the current Government is helping the 'strivers' who work hard to get on and is expected to spare motorists of a 3p fuel duty rise in January. There will also be £5billion for development projects of building fresh schools, skills and science parks.
Mr. Chancellor concluded: "This coalition government is confronting the country's problems, instead of ducking them."
Article viewed on Oye! Times at www.oyetimes.com.