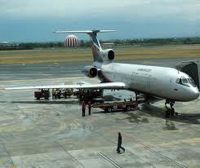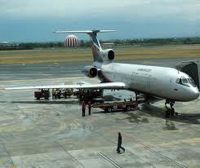 A Russian TU-154M passenger jet made an emergency landing in the Siberian city of Surgut after an engine flamed out shortly after take-off. For an as of yet unknown reason, a fire broke out which eventually resulted in an explosion of what may be the gas tanks. It is believed that everyone was evacuated before the explosion however there are reports of 3 dead and over 40 injured in the fire. The TU-154M carries 166 passengers and a crew of nine.
Reports say the transport minister pledged that the plane crew and the airport services did their best to get everyone out of the plane as soon as possible however there are also eyewitnesses saying the fire exits had been closed for a long time passengers had to jump out through the flame.
The news agency RiaNovosti is reporting that a popular Russian pop music group, Na-Na, was among the passengers on the ill-fated airliner and talked with them of their experience. They said that after landing and the engines were shut down, the plane's fuselage caught fire. The emergency exits could not be opened at first and people began to panic. Finally exits were opened and they could leave over the plane's wing. The band members said all of their documents and personal items such as baggage were burned.
Supposedly people were a distance away from the plane when it exploded. Other planes in the vicinity had been moved to a safe distance fearing an explosion which did in fact occur.
All three engines on the Tu-154 are located in the back of the aircraft. Apparently the fire seems to have started in the engine mounted over the rear of the plane.
The Tu-154 has been a mainstay of the Soviet and post-Soviet civilian aviation industry having first been rolled out into service in the 1970s. However a series of accidents involving the aging plane brought up safety concerns and Russia's own airline Aeroflot decided to withdraw all Tu-154s from its service. The last flight was a year ago.
However, the midrange jet remains as a plane of choice for many smaller airlines across Russia and the former Soviet Union. It is apparently banned from some parts of Europe due to excessive engine noise.
An accident just last month underlines the dubious track record of this older plane. Two people were killed and 83 injured in an accident involving engine failure on a Tu-154. Shortly after takeoff from a Moscow airport, two engines failed and the third cut out as the plane made an emergency landing. The plane then skidded off the snowy runway and broke apart.
Click
HERE
to read more from William Belle