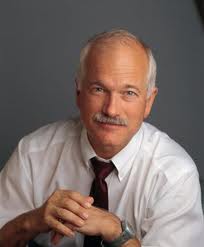 This article was last updated on June 18, 2022

Reports in today's newspapers state that Jack Layton was found in a massage parlour 15 years ago. According to a Toronto Sun article dated today, Mr. Layton went to the parlour for a massage. His wife Olivia Chow has told media via an email that she knew about this and wrote that it was for "a massage at a massage clinic that is registered with the City of Toronto." Apparently Toronto Police visited a "suspected" Chinatown bawdy house in 1996 and found Mr. Layton in a second floor room getting a massage. The police asked if any sexual services had been offered or performed and the answer was no. He was getting a massage.
The Sun writes:
What police say happened on Jan. 9, 1996, was recorded in the former cop's notebook, which was reviewed and photocopied by the Toronto Sun. The former Asian crime unit officer, who requested anonymity, details a prior police raid on the "premise currently ID as a bawdy house" looking for underage Asian hookers and a subsequent follow-up visit to the two-storey brick storefront on Jan. 9.
So, let me get this straight. Jack was there but no sex was going on. This visit by the police was based on an allegation however nothing is said if anything illegal was in fact going on.
Opinion
Why are we being bothered by this? Why is my time being wasted by something so trivial? I go down the list and see unemployment, health care, struggles with the economy, etc. and the headlines are suggesting that somehow Jack Layton who I believe to be a good honest man may somehow be of questionable repute.
I know newspapers are supposed to report; I wouldn't deny that they should do just that. However, there is something extremely odd about this story. "The former Asian crime unit officer, who requested anonymity". Standing in the shadows, anybody can say anything. There were 62 murders in Toronto in 2009. Jack lives in Toronto. Is somebody going to put forward a conjecture about 62 murders in Toronto and his presence in the city at the same time?
Several other papers are suggesting the leaking of this story is a deliberate smear campaign against Jack Layton now that the NDP is surging in the polls. It underlines how "squeaky clean" any politician must be to completely escape such nonsense.
Once again this underlines the puritanical streak which runs through North American society about anything which remotely smacks of sex. We love salaciousness as we hypocritically condemn those who are caught for what we're all doing at home.
This is shameful. This is a waste of my time. And at the end of the day, I care more about what Stephen Harper is doing about running the country of Canada then whether or not he ever got a "rub and tug".
References
The Globe and Mail – Apr 29/2011
Layton calls massage-clinic reports a 'smear' by John Ibbitson and Campbell Clark
The Toronto Sun – Apr 29/2011
Layton found in bawdy house: Ex-cop by Sam Pazzano
Local 2 Sault Ste. Marie – Apr 30/2011
Smear Campaign Launched Friday night, SUN TV broke a story about NDP Leader Jack Layton claiming he was found at a "questionable location" for a massage in January 1996. At this time he and his wife Olivia were on metro council in Toronto. As the story goes, the location was known for a place of prostitution.
Layton of course was not charged with anything and his wife Olivia knew all about the incident. That's not enough for SUN media though – let's blow this story right out of context. It's fairly obvious this news came out during the last few days of the election to attack Layton's character and credibility. Do you really think this story would have made the headline news had the NDP not surged in the polls and by all accounts, will put Layton in the official opposition chair come Tuesday.
It's been funny watching SUN TV this past week, the fear mongering by them in light of Layton becoming a coalition Prime Minister. The entire channel acts like the world will come to an end on Monday if the polls are right.
Click HERE to read more from William Belle
Article viewed at: Oye! Times at www.oyetimes.com
You can publish this article on your website as long as you provide a link back to this page.