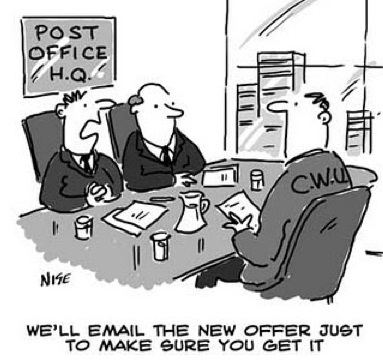 This article was last updated on April 16, 2022
Canada:

Oye! Times readers Get FREE $30 to spend on Amazon, Walmart…
USA:

Oye! Times readers Get FREE $30 to spend on Amazon, Walmart…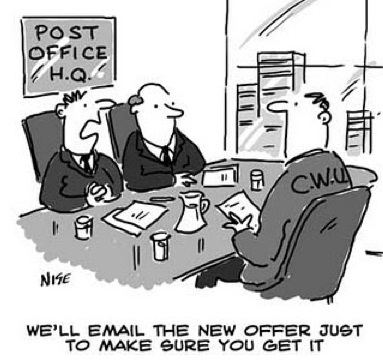 This is the continuing saga of who blinks first, Canada Post or CUPW. Earlier today, Monday, Canada Post issued
a statement
rejecting CUPW's offer of June 3. At 5:30 EDT, CUPW responded with
Negotiations Bulletin No. 58
saying the Union would examine CPC's proposals and develop its response.
At 6pm EDT, CUPW announced that Victoria, B.C. and Moncton, N.B. will be the next centers to walk out after Montreal. The rotating strikes will start at midnight, local time in the respective cities and last 24 hours. Apparently this adds up to about a thousand workers.
"In Victoria and Moncton, the public has suffered deterioration in postal service due to Canada Post's changes to the way mail gets processed and delivered. We have been saying all along that these changes don't make sense," said John Bail, National Director of the Pacific region for CUPW, referring to the consolidation of postal plants and the convoluted processes that have been created for the shipment and sortation of the mail.
"In Moncton, we have not only seen the restructuring of postal plants, but also job cuts that hurt our local communities," added Jeff Callaghan, CUPW National Director of the Atlantic region.
CUPW goes on to say that Canada Post refuses to address the union's issues. It would seem that now the ball is in Canada Post's court.
Comments
Chris Selley of the National Post did a weekend roundup of the various papers entitled "Is this Canada's last postal strike?" While the various writers bandy about some ideas about our postal system, Ezra Levant in The Toronto Sun goes on the attack. In an article entitled "Postal strike? Bring it on baby", the Sun reporter points out this is Canada's first postal strike since 1997 and Canada should welcome it. He goes on to discuss how a strike will only further push Canadians, both consumers and businesses, to move to electronic billing and payment. Mail will not be necessary at all. Mr. Levant adds, "There isn't a lot of public patience for well-paid, well-pensioned government unions who have a golden job but choose to strike." Such opinions do not bode well for the union and the future of mail in Canada.
References
Canada Post – June 6/2011
Canada Post Responds to Latest Union Offer
After careful consideration, Canada Post has again turned down an offer put forward by the Canadian Union of Postal Workers (CUPW) as part of labour negotiations.
While this is regrettable, CUPW's proposals remain too expensive and fail to address the challenges facing the postal system.
The union's latest offer does not offer realistic solutions to problems such as declining mail volumes, increasing competition, and electronic substitutions of traditional mail.
We understand that there is a lot of uncertainty right now, and that the strike activity being undertaken by CUPW is stressful for employees and their families.
The current situation is difficult for everyone at Canada Post.
But it is important for the company to address the problems facing the postal system head-on and take steps to keep Canada Post strong—now and into the future.
To help achieve this goal, Canada Post has informed the union that it is willing to withdraw a proposal that would create more part-time positions to help the company adapt to a steady decline in mail volumes.
With the hope that CUPW will now start to address the very real issues facing the postal system, Canada Post has offered to withdraw this key proposal and maintain the current percentage of full-time jobs.
Approximately 85 per cent of the jobs in CUPW's urban bargaining unit are currently full-time positions.
This latest compromise is in keeping with the company's commitment to reach a negotiated settlement that will protect postal services, improve employee wages, and ensure we do not become a drain on taxpayers.
We ask for your continued patience at this difficult time.
Please contact your team leader directly if you have questions about this round of labour negotiations with CUPW.
Thank you.
CUPW – June 6/2011 at 5:30pm EDT
CPC Takes Several Steps Backwards and Two Steps Forward
http://www.cupw.ca/index.cfm/ci_id/13107/la_id/1.htm
Today, after reviewing our June 3rd proposals for three days, CPC totally rejected our offer. They made virtually no effort to bring the parties closer together, and in fact, reneged on several of their previous proposals with respect to staffing.
Click HERE to read more from William Belle
Article viewed at: Oye! Times at www.oyetimes.com
You can publish this article on your website as long as you provide a link back to this page.