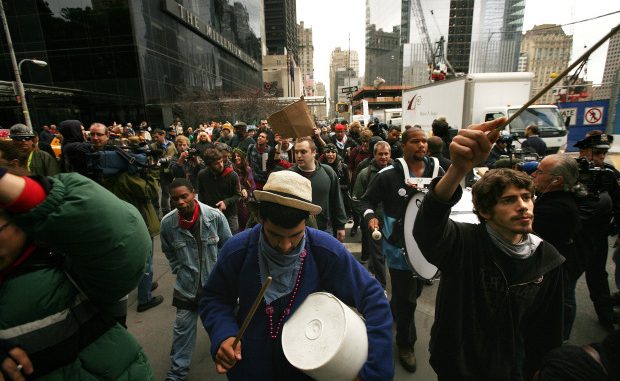 In the wake of severe financial crisis protesters from New York City to San Francisco got on the streets to protest as they feel there is a big gap growing between large U.S. corporations and average citizens.
On Wednesday the Picketers started a long march which was part of the Occupy Wall Street movement which started 3 weeks back in Lower Manhattan and which now has spread all over the U.S. According to Patrick Bruner who is was the Spokesperson of the march there was an estimated crowd of 10,000 people.
A 27 year old pharmacy worker Henry Liedtka said "There's power in numbers, and we outnumber the people we're trying to hold accountable, We should be bailing out the American public — not corporations — by raising the minimum wage, bringing jobs back from overseas and improving labor conditions."
A 60 year old retired sheet metal worker JoAnn Herr said "We bailed them out and they are not lending the money, they are just holding onto it, giving themselves bigger bonuses and not paying their fair share of taxes."
Many people feel that the crisis is because of the government who keeps injecting cash for the survival of financial giants like Citibank, Bank of America Corp, with a $700 billion taxpayer-funded bailout in 2008, while leaving Americans to struggle with unemployment, depressed wages, soaring foreclosure rates and slashed retirement savings.
Article Viewed on Oye! Times @ www.oyetimes.com