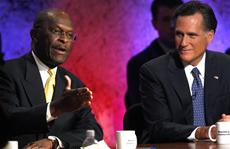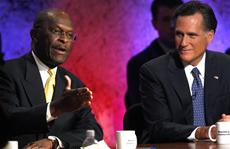 According to the new poll results released by CNN/ORC international Herman Cain and Mitt Romney are almost tied in the race for the GOP presidential nomination. However the survey results also prove that these figures aren't really concrete and that the race is still wide open.
Romney leads Cain, 26% vs. 25%, in the poll with Texas Gov. Rick Perry a distant third with 13% support among Republicans. No other candidate registered in the double digits.
Keating Holland, CNN's polling director said "With only 33% of all Republicans saying that their minds are made up, it's far too early to say the race is over, or even that is has boiled down to a mano-a-mano fight between Romney and Cain,"
The aforementioned poll was conducted Friday through Sunday, a few days after Herman Cain took a hit at the hands of his rivals at the GOP presidential date for his 9-9-9 tax proposal. Cain has jumped in public opinion surveys in recent weeks, but Perry has tailed off.
Since Perry joined the race in mid-August, he has dropped 19 percentage points in the CNN/ORC poll. Cain, by comparison, has jumped 22 points in the same surveys.
Article Viewed on Oye! Times @ www.oyetimes.com