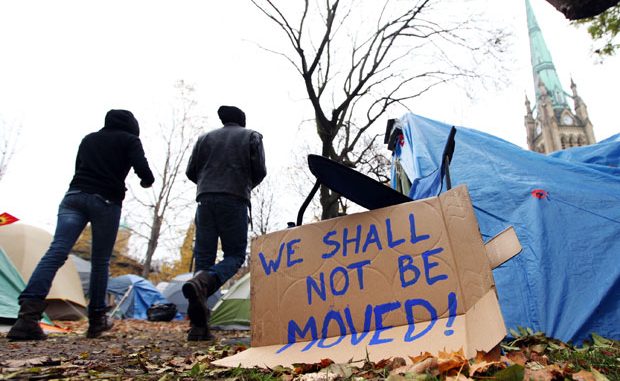 Occupy Toronto protesters are now being dragged to court, where their lawyer says forcing protesters to leave St. James Park would violate Charter rights.
On Friday, lawyer Susan Ursel said: "What's novel… Is the importance that the location plays in the message. It is a manifestation of what they are trying to create in the world."
Toronto Occupiers are adamant to stay in their tents at St. James Park, where they have gathered since October 15. The trial is likely to last until late Friday afternoon and will later hear from the lawyer representing the city.
In court, Ms. Ursel said one of her clients said the encampment is a "physical manifestation of my political beliefs."
"Given the fundamental nature of the rights that they are exercising, the balance ought to weigh fairly heavily in their favour and they ought to be able to stay in the park," Ursel said.
Last week, hacker group 'Anonymous' warned Canada to stop interfering with the Occupy Toronto camp or else Toronto will have to pay a high price. On Saturday, Anonymous released a video on Youtube. The computerized voice says:
"You have said that by next week the occupiers shall be removed. And we say by next week if you do not change your mind you will be removed from the Internet. We have already planned for this."
Article viewed on Oye! Times @ www.oyetimes.com