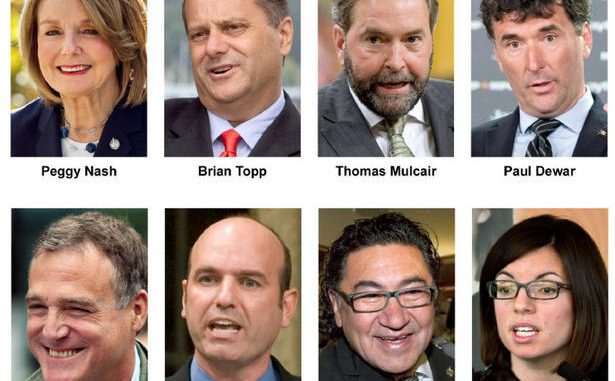 The first debate of the NDP leadership race went quite cheerful and positive. All nine hopefuls were given strict time limits to talk, which refrained them from playing dirty – they had to wait to do so until the show was over.
"We're New Democrats," Toronto MP Peggy Nash gagged when a journalist asked about the candidates agreeing with each other on several issues. "It's a first debate. It's early in the campaign. We're going to differentiate ourselves more and more as the campaign moves ahead."
"At the end of the day what you propose to do with all of these plans is essentially to finance them by putting them into the public debt," veteran NDP strategist Brian Topp replied to Paul Dewar when he said he would pay for it by raising corporate taxes.
"I thought we were talking about the environment and you're talking about taxes," Dewar replied.
"We're not talking about taxes," said Topp. "We're talking about how to get it done."
Nathan Cullen sounded more focused.
"Let's not obsess and only talk about tax. We have to talk about employment. We have to talk about balancing our books and not having government spend wastefully as this government has done… There are no silver bullets. Anyone saying that this is the way we get out of this economic fix and only this is not telling the truth."
The new NDP leader will be elected with a one member, one vote ballot system at a gathering in Toronto on March 24.
Article viewed on Oye! Times @ www.oyetimes.com