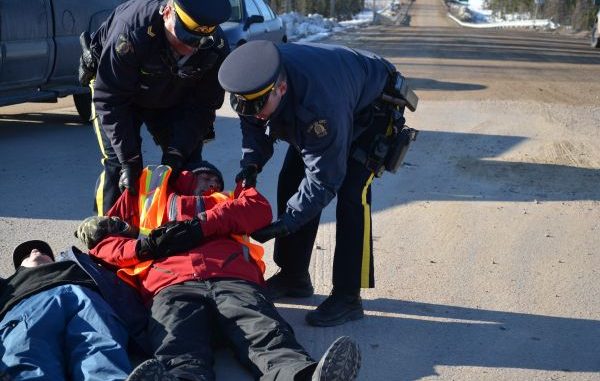 The RCMP in Happy Valley-Goose Bay has confirmed to have arrested eight protesters this morning in attempt to block a highway commonly used by workers to reach Muskrat Falls site, who will now be allegedly charged with obstructing police officers. It was explained that eight arrested suspects are now scheduled to appear in provincial court at a later date.

The RCMP informed media sources that almost around 6 a.m. today, it responded to a call for help from the area almost 10 kilometres from the Muskrat Falls project site, where it discovered a group of protesters to have blocked the highway and impeding traffic. The roadblock produced a line of vehicles that was roughly a kilometre long. Aditionally, the RCMP shared that the protesters were uncooperative when requested by officers to stop the blockade and due to their refusal to obey a direct order, they were consequently arrested. The RCMP ensures that it will continue monitoring the situation. In light of the recent arrests, which also included former MP and NunatuKavut Community Council president, Todd Russell, the chair of NunatuKavut's new on-the-ground action committee, Kirk Lethbridge, has taken over communications for the group.

Lethbridge alleged that the protest commenced today by the NunatuKavut Community Council is still continuing, regardless of the arrests made this morning. He was unsure regarding the charge(s) being laid against the eight protestors, including Russell, who were arrested and taken in police custody from the site. Lethbridge stated that "they said we were obstructing traffic," while reiterating that the group is non-violent and not interested in confrontation with the RCMP.