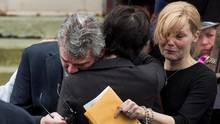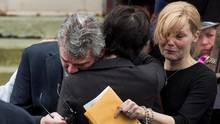 An entire presence of the city and province was visible as the family, friends and politicians convened at a north end church in Halifax to attend the funeral of bullied Nova Scotia teen Rehtaeh Parsons. The Minister of the St. Mark's Anglican Church, John Morrell, mentioned on Saturday after an almost 90-minute service, that "love was a prominent word."

Talking about the 17-year-old who killed herself, he mentioned that "it just seems hard to think that someone so well-liked and so well-loved could have that sense of darkness and depression in her soul to do what she did." Rev. Morrell alleged that Rehtaeh was nothing but a compassionate young woman, who loved all creatures great and small. Rehtaeh Parsons passed away on Sunday, almost three days after her attempt to commit suicide in light of disturbing events in her past. Rehtaeh's mother, Leah Parsons, exposed the saddening and disturbing story behind her daughter's suicide attempt in a Facebook post.

According to her mother, Rehtaeh was allegedly raped by four boys at a party of school friends in November 2011, when a few pictures were also taken during the act of assault. Later those pictures were circulated all over the internet, especially at the Cole Harbour high school and community. However, local police refused to charge any suspects and the school administration remained silent as well. Recently, it was affirmed on Friday in response to an intensive public outcry, that the RCMP will be reopening Rehtaeh's case after receiving new and credible information.