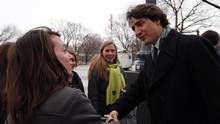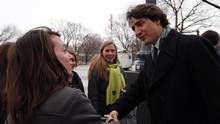 The Conservatives are in pursuit of ensuring that Justin Trudeau keeps on being criticized over his comments regarding terrorism, in an attempt to keep the new Liberal Leader in light of media scrutiny, even after an already tough first week under the media microscope. In an unexpected unfolding of events on Friday, the Harper government stated that it will be starting a two-day debate on its proposed anti-terrorism legislation from Monday onwards, which is being deemed as an attempt to exploit the ongoing controversy around the comments of Mr. Trudeau in response to Boston Marathon bombing, which alleged to fight the "root causes" of terrorism.

However, the government's announcement also seems to be an attempt of sabotaging and delaying the Liberal Leader's endeavors for changing the rules of the Commons to grant more powers to backbench MPs. The announcement was made only a few hours after Mr. Trudeau revealed that he intends to ask the House on Monday to vote on whether to modify the current rules, in order to abolish any party whip that controls which MPs are allowed to deliver 60-second statements.

Now the rescheduled plan entails that the debate on terrorism will take place on Monday and Tuesday, which in return delays the motion to be presented by Mr. Trudeau up till Wednesday. This development infers that the Harper government is afraid of showcasing divisions in its caucus. Almost 10 Conservative MPs requested the Speaker in recent weeks to allow them to deliver statements free of party whip control.