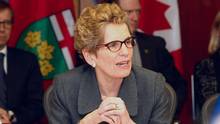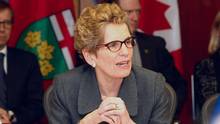 In light of the recent admission by Liberal leader, Justin Trudeau, to have smoked pot even after becoming a MP and his constant demand for legalizing pot, several other renowned politicians have also confessed to have smoked marijuana sometime in the past.

The most recent confession was made by Ontario premier, Kathleen Wynne, on Wednesday as she admitted having smoked a joint almost 35 years ago, i.e. before she was elected to provincial parliament. The Canadian Press has reported that Ms. Wynne did not state that she would agree with Trudeau's demand for legalizing pot but would still like to discuss its pros and cons. On the other hand, Toronto mayor, Rob Ford, was also inquired the same to which he replied that he had not only smoked pot, but that he'd smoked "a lot of it." However, his confession has not come as a surprise to anybody since he has also been arrested in Miami for drunk driving and marijuana possession back in in 1999.

The Huffington Post Canada recently inquired NDP leader, Tom Mulcair, and Prime Minister, Stephen Harper, whether they had used marijuana in their life. Mulcair admitted using it in the past, but wouldn't tell when, whereas Harper's office told that he had never even tried pot due to asthma. Among other renowned politicians who have confessed smoking pot at some point in their life include Conservative Minister of Finance Jim Flaherty, former Conservative cabinet minister Stockwell Day, former Liberal premier of Ontario Dalton McGuinty, premier of Saskatchewan Brad Wall.