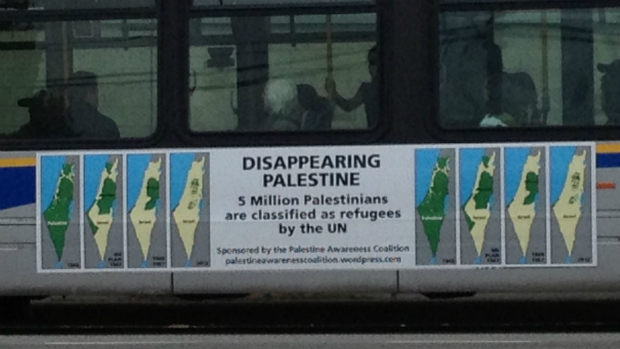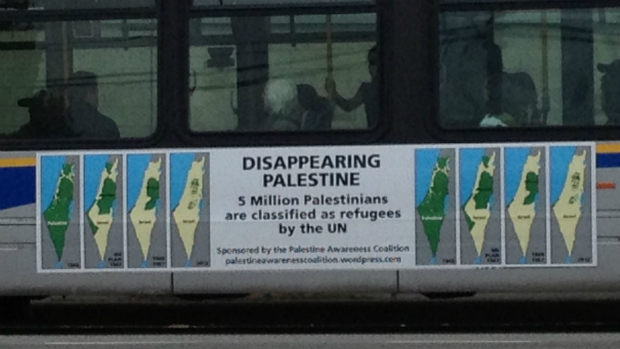 Chairman of the Jewish Federation of Greater Vancouver, Mitchell Gropper, is demanding TransLink to take off the controversial ads illustrating shrinking of Palestinian population in the Israeli-Palestinian conflict. The ads titled "Disappearing Palestine" show four maps depicting the stark reduction in Palestinian territories into the state of Israel over the last six decades. The posters produced and funded by the Palestine Awareness Coalition are made to appear on about a dozen buses and in the City Centre SkyTrain station.

Mr. Gropper mentioned in a statement that his group referred with TransLink on numerous occasions to convey their concerns, but the ads were displayed regardless of that. Mr. Gropper explained that "what is of real concern to us, now that these ads have been displayed, is that TransLink is allowing the use of its vehicles to create disharmony and disunity in our society, which is very disturbing."

In response to these claims, TransLink mentioned in a press release that its advertising policy cannot violate freedom of expression under the Canadian Charter of Rights and Freedoms. Answering that notion, Gropper alleged that his community also believes in free speech, but there are limits. He stated that free speech "is not without limits," and "you cannot use free speech to libel and slander others, you can not use free speech to endanger other groups." TransLink has mentioned that the "Disappearing Palestine" ad campaign was referred to the Canadian Advertising Standards office for review, and was only allowed to go up with its consent. TransLink also stated to have consulted another third party legal opinion on the matter.