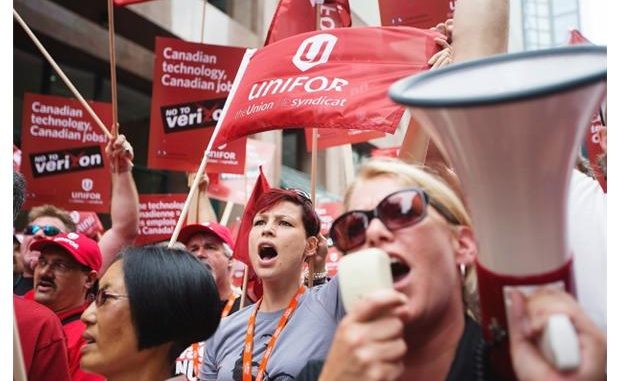 Thousands of members of the two largest unions in the country marched on Friday to voice their opinion against the newly changed federal telecom rules they fear will allow foreign companies to take over Canadian market without the guaranteeing new jobs. Countless number of laborers gathered on the day before the Communications, Energy and Paperworkers and Canadian Auto Workers unions formally merged.

The flood of demonstrators streamed in downtown Toronto before crowding outside an Industry Canada office to express their utter opposition of Ottawa's decision to allow foreign companies, including U.S. giant Verizon, to easily penetrate the country's telecom market. The unions have numerously alleged that this strategy won't generate new jobs, in fact it'd rather destroy the existing ones. In an announcement made last month, Verizon declared that it was considering its entry into Canada. However, several analysts interrogate that in case the American giant intends to enter into Canada, why is the parent company Verizon Communications negotiating for a potential $100-billion deal to buy its remaining unowned stake in Verizon Wireless from a British firm.

President of CEP, Dave Coles, informed the protesters gathered in Toronto that even if Verizon never enters the Canadian market, foreign firms opening up shop in Canada won't create jobs in the same places they hope to draw new customers. Cole stated that "Verizon or any of the others, AT&T… they're not required to create one job, build any infrastructure or supply good service." Cole's union has thousands of members at BCE Inc's Bell Canada.