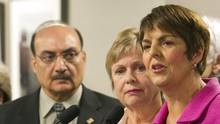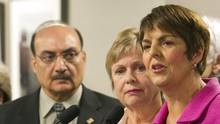 Another B.C. MLA has finally decided to repay long-pending fare for his spouse's flight on a taxpayer-funded trip to South Africa last summer. A day after the Speaker of the House, Linda Reid, embarrassingly refunded the cost of her husband's $5,500 airfare to join her at a Commonwealth parliamentary conference, New Democrat Raj Chouhan announced that he will do the same and reimburse taxpayers for the cost of his wife's economy-class fare on the same trip.

The deputy Speaker of the House and MLA for Burnaby-Edmonds, Mr. Chouhan, highlighted that it was importance for him to attend the meeting because such conferences are valuable for parliamentary exchanges. Additionally, he said he expects the B.C. Legislature to tighten up rules that allow spouses to accompany MLAs on such business trips. Mr. Chouhan alleged that "I'm not trying to justify it . . . Even though the policy is in place, people's expectations are changing,"

According to Mr. Chouhan, he initially offered to pay the $2,200 airfare of his wife Inder Chouhan, but he was assured at the time by Ms. Reid that it was not necessary. He shared that "I thought I did everything right. I asked the Speaker how it should be done. Now I feel part of something I should not be." In addition to that, Mr. Chouhan elaborated that he wanted his wife to travel with him because they had been apart in the spring, during the provincial election campaign.