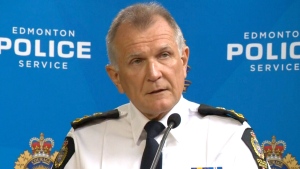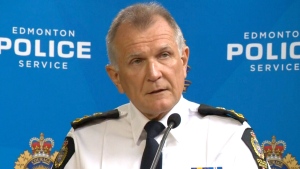 Just after midnight on Monday, two Edmonton officers were shot as they conducted a hate crimes-related call at a west Edmonton home. According to Edmonton police chief Rod Knecht, one of the two officers died during the incident, revealing that Const. Daniel Woodall was shot several times while serving the warrant.

Sources confirm that 35-year old Woodall was a married father of two who served with the EPS most recently in their Hate Crimes unit. Formerly, Woodall resided in the U.K. and served the Greater Manchester Police. In his remarks, Knecht stated that "this is a tragedy of unspeakable proportions," adding that "it is a police chief's, it is a police officer's worst nightmare." The other officer accompanying Woodall, Sgt. Jason Harley, who was shot in the lower back as he entered the home. He received serious injuries but was in stable condition and released from the hospital shortly afterwards.

According to Woodall's neighbors, the home where the shooting took place is owned by a divorced man in his 40s. It was revealed that the owner had children but lived alone and he also sometime faced "problems" with the city over mowing his lawn and shoveling his sidewalk. One of the neighbors confirmed that the man had weapons since they went at a shooting range together once. Police Chief Rod Knecht has refrained from revealing whether the suspect was alive or dead, but he did say he did not believe there was a danger to the public at this time.