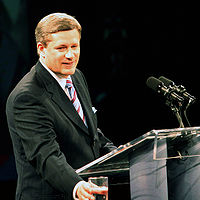 Harris Decima out with a
poll
, which tends to confirm the recent move found in the EKOS and Ipsos offerings. The only caveat, the headline reads "widen lead", but really HD is static month to month, in January they had a 8% lead, so a bit of a misleading headline given MOE:
A new poll suggests the Harper Conservatives are gaining strength across the country and hold a solid lead over the Liberals.
The Canadian Press/Harris Decima survey suggests the Tories have 37 per cent support, with 27 per cent opting for the Liberals, 14 per cent going NDP and 10 per cent each for the Bloc and the Greens.
The survey suggests the Conservatives are gaining strength in Ontario, including the horseshoe of ridings around Toronto.
In Quebec, the Tories and Liberals are tied, with the Bloc holding a strong plurality.
HD notes renewed Conservative strength in Ontario, given their last offering had them touching 40%, one assumes they are in that range for this poll. This means three polls in quick succession showing the Conservatives over 40% in Ontario, a trend we've seen before, but not for quite a while. I've argued forever, Ontario is quite volatile, it changes on a whim, so the question is what is the motivator this time? Will the numbers hold, or while they narrow again, as they have previously? With all the discussion about polls in recent days, worth pointing out, especially with Ontario, definitive conclusions are the realm of fools and/or the "pounce" crowd.
HD has shown Liberal weakness in Quebec, as have the other polls the last bit, so it is fair to wonder why what happened to the gap between themselves and the Conservatives. MOE is reasonable, particularly for a two week, 3000 sample, so nothing to dismiss.
From the Liberal perspective, people should digest without overstating. Important to also remember, these same polls also show some real promise on the issues, which might be the more important findings coming election time. Whatever, this "snapshot in time" does tend to support a move in the polls that we haven't seen for awhile. Attack ads, election threat, people think Shelley Glover is a rockstar in her new portfolio, who knows? But, they have moved for now, let's see if it holds….
UPDATE:
Here are the regionals:
•The BQ remains well in front in Quebec. Here, the Bloc stands at 40%, to 19% for the Liberals, 19% for the Conservatives, 11% for the NDP and 8% for the Greens.

•The Conservatives now hold a 9-point lead in Ontario. The Conservatives hold 43% support, to 34% for the Liberals, 12% for the NDP, and 10% for the Greens.

•The Conservatives are now in front in British Columbia. Here, they stand at 35%, to 29% for the Liberals, 19% for the NDP and 16% for the Green Party.

•The Conservatives remain the dominant party on the Prairies. In Manitoba and Saskatchewan the Conservatives are at 48%, to 22% for the Liberals, 20% for the NDP, and 9% for the Greens. In Alberta, the Conservatives stand at 56%, to 21% for the Liberals, 12% for the NDP and 10% for the Greens.

•The Conservatives now hold a ten point lead in Atlantic Canada. The Conservatives are at 39%, to 29% for the Liberals, 24% for the NDP and 6% for the Greens.

So, we do see a 4% move up to put the Conservatives at a very high 43% in Ontario. We also see the Liberals tied with the Conservatives in Quebec, again now below 20% in the province.

Click HERE to read more from Steve Val.

Article viewed at: Oye! Times at www.oyetimes.com