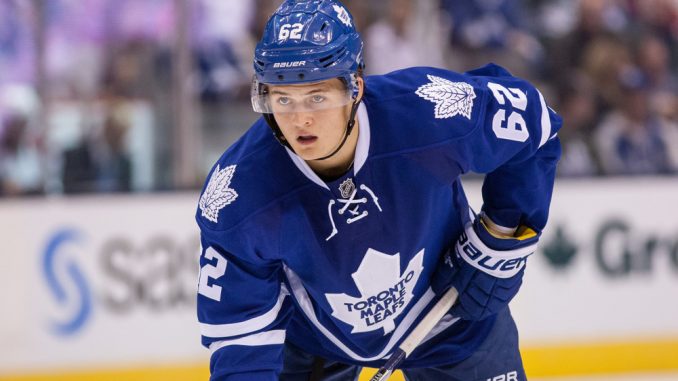 Columbus Blue Jackets score early to beat Toronto Maple Leafs 4-2. Here is the summary of the game played on Wednesday, December 20, 2017
| | | | | | |
| --- | --- | --- | --- | --- | --- |
| | 1 | 2 | 3 | OT | FINAL |
| TORONTO | 0 | 1 | 1 | – | 2 |
| COLUMBUS | 2 | 1 | 1 | – | 4 |
GAME SUMMARY | EVENT SUMMARY | FACEOFF SUMMARY

ON THE SCORESHEET
Jake Gardiner put the Maple Leafs on the board at 4:26 of the second period and later had the primary assist on Mitch Marner's third period goal. Tonight's game is the fourth multi-point performance of the season for Gardiner.
Mitch Marner scored the second Toronto goal of the game at 17:03 of the third period. Marner has goals (2) and points (2-3-5) in two consecutive games.
William Nylander recorded the lone assist on Gardiner's second period goal. Nylander has points (1-1-2) in two consecutive games.
Tyler Bozak picked up the secondary assist on Marner's third period goal. Bozak has assists (4) and points (1-4-5) in two consecutive games.
Curtis McElhinney stopped 33 shots in the loss. McElhinney is 3-1-0 this season when making 30 or more saves.
SHOTS FIRED
The Maple Leafs outshot the Blue Jackets by a 41-37 margin in all situations and a 35-28 margin in shots at 5-on-5.
Toronto had a 67-55 lead in shot attempts in all situations and a 59-43 lead in shot attempts at 5-on-5
Mitch Marner and James van Riemsdyk each recorded a team-high seven shots on goal.
James van Riemsdyk led the Maple Leafs with 12 shot attempts.
SHOTS ON GOAL
| | | | | | |
| --- | --- | --- | --- | --- | --- |
| | 1st | 2nd | 3rd | OT | TOTAL |
| TORONTO | 12 | 13 | 16 | – | 41 |
| COLUMBUS | 11 | 19 | 7 | – | 37 |
SHOT ATTEMPTS
| | | | | | |
| --- | --- | --- | --- | --- | --- |
| | 1st | 2nd | 3rd | OT | TOTAL |
| TORONTO | 20 | 24 | 23 | – | 67 |
| COLUMBUS | 17 | 29 | 9 | – | 55 |
ON THE ROAD AGAIN
The Maple Leafs are 10-9-1 on the road this season.
Toronto's all-time record is 10-10-1-2 in 23 games against the Blue Jackets and 6-4-0-1 in games played in Columbus.
Toronto is 11-8-1 against the Eastern Conference this season and 6-6-0 against the Metropolitan Division.
The Maple Leafs are 3-4-0 in the second leg of back-to-backs.
The Maple Leafs play their final game before the Christmas break at Madison Square Garden on Saturday, Dec. 23 when they visit the Rangers.
MAPLE LEAFS LEADERS
| | |
| --- | --- |
| Faceoff Wins | 14 (Bozak) |
| Faceoff Win Percentage | 100% (Brown, Martin – 1 won, 0 lost) |
| Hits | 5 (Borgman) |
| Blocked Shots | 1 (Eight players tied) |
| Takeaways | 2 (Hainsey) |
| TOI | 23:48 (Gardiner) |
| Power Play TOI | 1:08 (Five players tied) |
| Shorthanded TOI | 3:00 (Hainsey) |
| Shifts | 32 (Rielly) |
| 5-on-5 Shot Attempt Percentage | 80.6% (Marner – 29 for, 7 against) |
RECORD WHEN…
The Maple Leafs were 1-for-2 on the penalty kill and 0-for-1 on the power play tonight. Toronto is 7-7-0 when allowing a power play goal this season and 10-9-1 when not scoring a power play goal.
Toronto is 4-9-1 when their opponent scores the first goal of the game.
The Maple Leafs are 2-9-0 when trailing after one period and 1-12-1 when trailing after two periods.
Toronto has a 4-6-1 record when outshooting their opponent.
The Maple Leafs are 5-2-1 in Wednesday games.
OF NOTE…
The Maple Leafs' 41 shots on goal mark the fifth time this season the team has recorded 40 or more shots on goal.
Tyler Bozak won 71 percent (12 won, 5 lost) of his faceoffs in the offensive zone tonight. He won 83 percent (5 won, 1 lost) of his faceoffs when matched up against Columbus forward Nick Foligno in the Blue Jackets' zone.
James van Riemsdyk was on the ice for a team-high 31 Toronto shot attempts-for at 5-on-5. He finished the game with a 5-on-5 shot attempt percentage of 79.5 percent (31 for, 8 against).
UPCOMING GAMES:
Saturday, Dec. 23 at New York Rangers, 7:00 p.m. (Hockey Night in Canada, FAN 590)
Thursday, Dec. 28 at Arizona Coyotes, 9:00 p.m. (Sportsnet Ontario, FAN 590)
Friday, Dec. 29 at Colorado Avalanche, 9:00 p.m. (Sportsnet Ontario, TSN 1050)
Sunday, Dec. 31 at Vegas Golden Knights, 3:30 p.m. (Sportsnet, FAN 590)
Tuesday, Jan. 2 vs. Tampa Bay Lightning, 7:00 p.m. (Sportsnet Ontario, FAN 590)
POSTGAME QUOTES:
HEAD COACH MIKE BABCOCK
On a slow start to the first period:
I didn't necessarily think it was [a slow start] defensively, I just thought we didn't compete hard enough. I thought their team competed harder than us. We had the best back-to-back you can have. Sometimes you get a back-to-back and you get in at two in the morning and all that stuff. We were in at eight o'clock last night, so there's no reason for us not to be ready here today. We weren't good enough. We had the Bozak line and some D, but we didn't have enough forwards.
On consistent as room for growth:
It's interesting, I was reading something today somewhere where [Josh] Bailey from the Islanders was talking about being a good pro and how you learn how to do it and you bring it every day. We're not at that stage, obviously. We've got to keep working at it so we can bring it every single day and compete at a high level. I'm not trying to take anything away from their team, I thought their team worked hard tonight, but I thought we could be better.
On Gardiner:
Yeah, I mean, not good enough.
On McElhinney:
He fit in with our group – we weren't good enough tonight. Some of our losses when we haven't won, but we're playing lots of hockey or something like that, there's reasons for that. There's no reason for this tonight for me, anyway. I thought we could have been better. I thought the Bozak line absolutely dominated the game, I thought they were the best they've been all year, which is really good for us. But, we didn't have enough hands on deck. That's it.
On Zaitsev's absence:
We're not as good without him, obviously, but, I mean, I didn't think that part was the issue to be honest with you.
On Kadri not scoring recently:
He's just got to get back to work. It's like anybody, you go through ebbs and flows, but you've got to get back to work. We need him to be better.
JAKE GARDINER (1 GOAL, 1 ASSIST)
On the first period:
We knew they were going to come hard, they have at least one guy on each line – that fourth line got a goal for them early – and we didn't break out like we probably wanted to. It was just a slow start tonight.
On the team having a chance to come back after his goal:
Yeah, for sure. I think we finished that second period strong, but their power play was pretty dynamic tonight and ultimately had that edge over us.
On if missed coverage led to the first Columbus goal:
Yeah, that's exactly what happened. I just missed it with my foot I think it was, but I've got to definitely have that guy in front.
On what went better in the second and third periods:
I think breaking the puck out faster and once they got the puck in their defensive zone we stayed on them and were able to recover a lot of pucks.
On playing with multiple defensive partners tonight:
When a defenceman goes down like [Zaitsev], it's always going to be tough to find something that works. I think that's what they were doing.
On where Zaitsev is missed:
Basically everywhere. On the penalty kill he's huge, he and [Hainsey] have played the most minutes by far, and then, like you said, the pairings get changed left and right so I guess that chemistry we had before – not only my pairing, but the other two we have as well.
On getting a day off to recover:
That'll be nice – get home, get some rest and hopefully go into the break happy.
On scoring after having the first Columbus goal go between his feet:
Any time you think it was your fault you want to make a big play or play the rest of the game well. It was definitely a good feeling.
MITCH MARNER (1 GOAL)
On the first period:
That's the thing we always preach is coming out quick and strong and I thought we got off a little bit late tonight. A day off tomorrow, we've got to rebuild and get ready to play New York.
On the team's play:
I thought we were doing things right – we were getting pucks out, I thought we were battling down low. Like I said, I think the first period we didn't come out the way we wanted to and gave momentum. In the second and third I thought we got back to the way we wanted to be.
On the play of his line:
We had a couple of chances out there tonight, I think all of us could have finished with more than a goal, but that's how it goes. He made a couple of big saves for their team in net. I thought we were hungry on the puck tonight and, like I said, we've just got to keep that going in New York, especially into the Christmas break.
On his goal:
The thing was rolling and luckily enough I got it off and it found a hole. We had a chance to come back there and I thought we were around the net with the empty net as well, but a couple of chances just didn't bounce our way tonight.
CURTIS McELHINNEY (33 SAVES)
On the first period:
A tough way to get out of the gate. I think there were some good minutes, but it's tough to be down 2-0 on back-to-backs.
On the special teams play:
I think we had a good kill there with the first penalty in the second period. Even the second one, it's just one of those pucks that's bouncing around in behind the net. They made a quick play on it and then got that third one, which was kind of the difference maker.
On going down early vs. Columbus:
Obviously, they've got a lot of offensive threats on the back end, but they did a good job of shutting us down and keeping us out of the middle until the end of the game there where we had a few opportunities. You've got to give them credit, I think Korpisalo made some great saves as well. Give him his credit also.