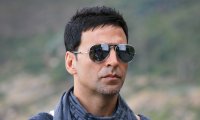 You can publish this article on your website as long as you provide a link back to this page.
This article was last updated on April 16, 2022

It is time for huge celebrations all over again.
Housefull 2
opened on a very good note and the trio of Akshay Kumar, Sajid Khan and Sajid Nadiadwala is already looking at the biggest opening ever in their careers so far. While the film is finding good response from the masses, what has stood out is a new comic side of Akshay, courtesy his impersonation of Ranjeet and as getting into a 'Sarkar seva' mode with Mithun Chakraborty in full on 70s ishtyle. While collections continue to pour in, Akshay (in Part II of this exclusive interview) talks about his confidence in the film and a lifelong bond he shares with both Sajids.
While you have led from the front in the film, in the middle of it all there are senior actors like Rishi Kapoor, Mithun Chakraborty, Boman Irani and Randhir Kapoor with whom you have already worked in the past. At times, did it become a little too overwhelming for you to be surrounded by actors who have a combined count of over 500 films to their credit?
It just so happens that these are four of Bollywood's finest men and actors. They are these respectful legends who have carried this industry so far and also they are the greatest men that an actor of my caliber could have the pleasure to work with. It wasn't overwhelming at all, it was God sent. I never thought that a day would come when I would be able to share screen space with so many loved characters.
The film has opened quite well and it is clear that Sajid Khan would now ensure a 100% success record for him after Heyy Babyy and Housefull. Now he has always claimed to know the pulse of the audience and doesn't mind sticking his neck out while declaring that it is nothing less than a blockbuster that he would always deliver. Now that must be reassuring, isn't it?
Sajid's confidence is the biggest part of his personality. If anyone dares to be negative around him or try and stop him from doing what it takes, he will tell him in a crowded room to 'Bugger off and make a poetic film with someone else'. I know and he knows that he will give his life to make a successful film. He doesn't sit there and say he is the best; he gets up off his a$$ and makes it work.
You surely sound impressed.
Oh yes, of course I am. There is no one I know who spends as much of his life studying films like Sajid does. Whether it is studying audience's reaction or getting in touch with people to know what they love to watch, he does everything. He will never make a film that could reach the Oscars but he will die trying to make people fall off their seats in his own country. Now that is something I give him credit for. Yes, he has an awful lot of confidence and no, I don't doubt him for a second. Of course his claims are a lot to live up to but high expectations are better than no expectations.
However the fact also remains that you are much more experienced and senior in the business. Due to this, is it really easy for you to get carried away by the confidence of your director? Or is it all about going by your own instinct and then deciding what is best for you?
I don't get carried away even when I am hit by a 10 feet wave, let alone by anyone's enthusiasm. I admire Sajid's confidence, I love how he just wants to make every day as memorable as he can. His biggest concern every day of a film's making is 'Are you having the most fun on my sets'! He doesn't let even one day of shooting go un-noticed or un-recorded. He treasures every moment and makes the most of every situation. He doesn't need me to tell him that 'Oye, I am older and wiser than you so you better listen to me'. Instead, I feed off his positive attitude when I need to. At other times, I love and laugh with him for his 'out of this world mindset' that he is so famous for having.
Now that the film has given you the biggest opening ever of your career, I am sure it would have been the setup of Housefull 2 that would have instilled further confidence in you about the final outcome. After all, Sajid Nadiadwala has been your close friend and his movie making aesthetics can be relied upon.
Ahh, there are some things people do in life to better themselves, then there are other things people do out of need or necessity and then there are things one does for the love of it. Me signing a film with my two favourite Sajids would be without blinking, a moment of pure love and admiration for both of them. We don't need one another, we admire one another and therefore the respect for the film is immense. I am looked after as an actor, I fully cooperate and encourage the director and I respect every minute and penny of my producer's time. We are a great trio; success or not we are what we are!
Guess Housefull 2 has indeed turned out to be an experience to cherish for you.
(Gets emotional) I will never forget this film. This film has brought so much talent into one single frame and I think more than anything else, that should be remembered and cherished in the Hindi Film industry.
Click HERE to read Part 1