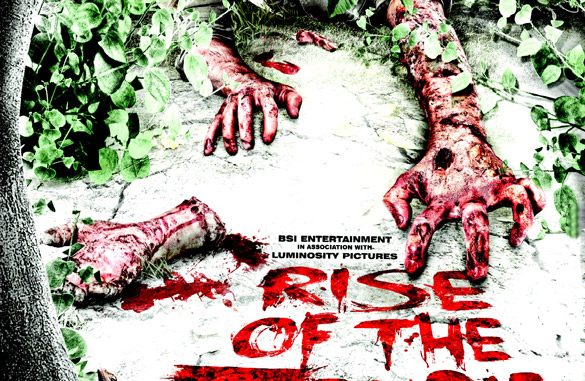 Movie Review
Rise Of The Zombie
Cast: Luke Kenny, Kirti Kulhari, Ashwin Mushran, Benjamin Gilani
Directed by: Luke Kenny And Devaki Singh
Review by: Faisal Saif
Ratings: * * * 1/2
Those who are unaware about the 'Zombie' term, It means animated corpse resurrected by mystical means such as Witchcraft. At least, This is what Wikipedia says. The 'Zombie' which we have been introduced with (Especially by the "West" culture) means 'Living-Dead'. Zombies doesn't behave like normal human being, As they are Half Dead and Half Alive. Zombies cannot eat normal food, As they eat all 'Living Ones'. Especially Humans, Animals and Insects. In short, A Zombie means 'Monster'.
Till date, You have witnessed Horror Films which has Woman in a White Saree who is a Spirit and she is out for a Revenge. But here's a Film called Rise Of The Zombie which takes Horror Genre into totally different level altogether. Authentically, Rise Of The Zombie is India's first-ever Zombie Genre film which the makers intent to make as a Zombie-Series-Trilogy. Rise Of The Zombie is a First-Part from the Zombie-Trilogy.
Let me also "Warn" you Rise Of The Zombie is not at all for Weak-Heart people.
Neil Parker (Luke Kenny) is a passionate wildlife photographer who pays more attention to his wildlife than his human life. As a result his relationships with the real world suffer. When his girlfriend Vinny (Kirti Kulhari) walks out on him, He resigns himself to isolation and nature. But a chance occurrence changes all that. While doing the Mother-Nature's photo-shoot, Neil get's bitten by something. Slowly story follow Neil's journey into a darkness that has to be seen to be believed. A monster that seems to be rising out of the depths of desolation and agony, soulless, depraved and out of control.
Luke Kenny has performed his part very Brilliantly. As an actor, He is well-aware when he has to go Natural and when he has to be Materialistic. Luke Kenny makes you believe the Pain, Sorrow and Thirst of a Monster thru his performance. Kirti Kulhari is another Mind-Blowing actress with her amazing acting skills. I fail to understand why Film makers ignore superb talent such as Kirti. Kindly note her in the first (Introductory) scene where she is upset and worried at the same time for the whereabouts of her lover. Ashwin Mushran and Benjamin Gilani are good in a small but Brief roles. Their role continues in the second part of the Trilogy (Of course).
Directors Devaki Singh and Luke Kenny both have chosen a very Complex-Horror script (Written by Devaki Singh) and made it in a very Compelling and Astonishing way. The first hour is little dragging at few points, But a special tap on the shoulders of DOP Murzy Pagdiwala who keeps you hooked to your seats with his masterpiece camera-work. Suprisingly, The film also has a wonderful musical score which gives you an International Feel. The Editing is tight and sharp. You might find lot of Silent Explanations in the scenes, But as i mentioned earlier, This one is the first part of Trilogy.
Rise Of The Zombie works for it's unique concept which speaks Fearlessly on the Big Screen. Hats off to makers Devaki Singh and Luke Kenny and the entire team for making us understand that Indian Horror has much more to offer.
Don't you 'Dare' miss this honest effort.