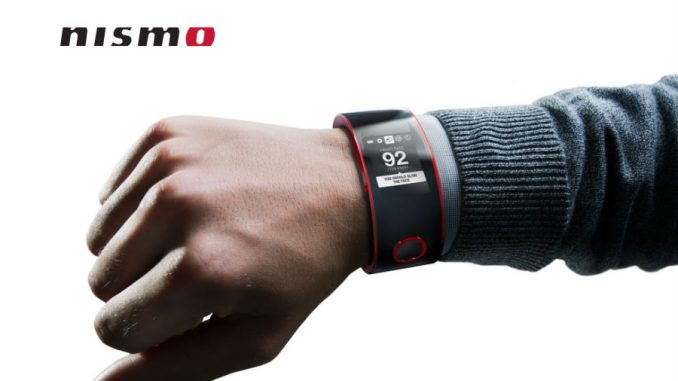 Sure, your phone connects to your car, but can your watch do the same?
http://www.youtube.com/watch?v=uMaZZZsTe_g
In a world's first, Nissan has built a concept smartwatch that does just that. Branded as part of the Nissan Motorsport division, the NISMO watch will connect drivers to their cars while providing real-time biometrics to the driver.
The watch allows drivers to:
– Monitor the efficiency of their vehicle with average speed and fuel consumption readings
– Access vehicle telematics and performance data while on track
– Capture biometric data via a heart rate monitor
– Connect to the car using a smartphone app via Bluetooth Low Energy
– Receive tailored car messages from Nissan
Nissan hopes that the technology will enhance driver performance and efficiency.
"Wearable technology is fast becoming the next big thing, and we want to take advantage of this innovative technology to make our NISMO Brand more accessible" says Gareth Dunsmore for Nissan in Europe. He went on to add that "we have brought the NISMO experience to life in every aspect of the watch, including its packaging, which will be made using tires and rubber from the racetrack. As NISMO is the performance arm of Nissan, we wanted a way of integrating NISMO's heritage in racing into this futuristic innovation."
Unlike the Sony SW2 or Samsung Galaxy Gear, the NISMO smartwatch is not meant to be a plaything extension for your smartphone. It seems Nissan's goal is to create a device that gives gearheads an opportunity to stay connected to their vehicle while the vehicle gets to be smart about the driver. The fact that this smartwatch looks better than the rest doesn't hurt either.
This however, is but a small first step for Nissan. The company hopes that future iterations of NISMO wearable technology will include ECG, EEG, and skin temperature monitors.
Can we get a collective hoorah for the company that wants to treat average gearhead drivers like prize athletes?
Image courtesy of Nissan
Kanishka Sonnadara is on Twitter @autoKsS or can be reached by email at kanishka[at]oyetimes.com