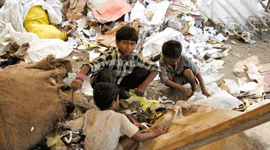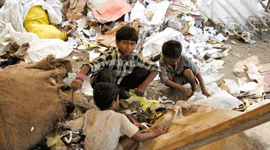 World Vision is a Christian humanitarian organisation working to create lasting change in the lives of children, families and communities living in poverty and injustice. With more than 50 years of experience in India, World Vision works in 24 states across the country through development that is community based, sustainable and transformational emergency response and disaster mitigation, advocacy initiatives that are grassroots based.
World Vision India is a national NGO in partnership with a network of over 100 other entities within World Vision International. World Vision India is registered as a society under the Tamil Nadu Societies Act with its National Office based in Chennai. Governed by an autonomous Board of Directors, World Vision's programmes are facilitated by close to 1700 staff. Motivated by our faith in Jesus Christ, World Vision serves alongside the poor and oppressed as a demonstration of God's unconditional love for all people. World Vision serves all people regardless of religion, race, ethnicity or gender.
 
Our Distinctives

Focus on Children: World Vision seeks a life filled with dignity, justice, peace and hope for every girl and boy, giving them the opportunity to reach their fullest potential. All development work we carry out is focused on building the community around the children so that they have the opportunity to reach for a better future and thus build up a better nation. Child protection, child participation and child development are characteristic of all World Vision initiatives.
 
Grass Root Based: World Vision's relief and development is community based. Our teams are accessible to communities at the grass roots, living with them, learning from them, and working along with them in their journey towards recovery and transformational development. Relief efforts seek to restore and improve life to a status better than pre-disaster conditions. Transformational development seeks to enhance community capacity and mechanisms to address the root causes of poverty, both micro and macro, within an area, over a specific period of time.
 
Partnering for Change: World Vision India partners with the poor in their development, working with the government and civil society to usher in a better and brighter future for India. Our key partners include individual sponsors who contribute through child sponsorship towards community development while building a relationship with a child, and corporates who have the will to make a difference in the lives of children. In India, World Vision is a member of several NGO networks and Government forums, which address social and economic issues at various levels. World Vision India is also a member of the international partnership of World Vision, which works in almost 100 countries. World Vision International has consultative status with UN – ECOSOC (Economic and Social Council) as well as official relations with key UN agencies including UNICEF, WHO, UNHCR and ILO.
 
Our Vision

Our vision for every child, life in all its fullness;
Our prayer for every heart, the will to make it so.
Our Principles
World Vision seeks to be in all its work:
Faithful messengers of God's love
Trusted partners in lasting change
Powerful motivators of caring
Courageous promoters of justice and peace
Inspiring models of co-operation
Our Priorities
In all its field programmes, World Vision will focus on these priority areas towards building a nation fit for children:
Well-being of every boy and girl
Sustainable livelihood security
Access to water
Peace building and reconciliation
Prevent and mitigate HIV and AIDS & TB
Our Core Values

We have identified certain values that lie at the centre of World Vision's work. These "Core Values" are the fundamental principles that determine our commitment to each other and to the poor.
 
1. We are Christian. From the abundance of God's love, we find our call to ministry.
2. We are committed to the poor. We are called to relieve their suffering and to promote the transformation of their condition.
3. We value people. We regard all people as created and loved by God. We give priority to people before money, structure, and systems.
4. We are stewards. We are faithful to the purpose for which resources are given and manage them in a manner that brings maximum benefit to the poor.
5. We are partners. We are members of an international World Vision Partnership that transcends legal, structural, and cultural boundaries.
6. We are responsive. We are responsive to the life-threatening emergencies where our involvement is needed and appropriate.
Our History
Internationally, World Vision came out of the passion of Robert Pierce, a war correspondent moved by orphaned children in Korea in 1947. Touched by the plight of White Jade, a little Korean orphan girl, he gave five dollars initially to the warden of a mission house and later continued supporting her. This grew to become what World Vision is today.
In India World Vision's work began in the year 1962 in a small way in Calcutta. Today, more than 1700 staff work in over 5000 communities, touching the lives of a little over 2,25,000 children, their families and communities.
Accountability – A Core Value

Funding
Child Sponsors provide the majority of the funds raised by World Vision. Supporters in 18 countries sponsor close to 2,25, 000 children and through them their families and communities in close to 127 projects around India.More than 40,000 Indians support over 30 projects around the country.
Sponsorship is about partnering girls and boys in their pursuit of a new future with dignity, justice, peace and hope. Sponsors pledge a monthly amount to help needy children, their families and communities. Child sponsorship helps children get access to clean drinking water, sanitation, education, skills for future livelihood, nutrition and health care and particpate in an age-appropriate development processes.
It also helps communities to build a better future through empowerment, education, income generation and self-sufficiency. Programmes seek equitable, just, peaceful, productive and inclusive relationships within households and communities, responsible relationship with the environment, a culture of participation with families and whole communities empowered to influence and shape their situation through coalitions and networks addressing systemic issues towards ensuring access to basic needs in a sustainable manner.
World Vision programmes also access resources from the Government of India as well as other countries such as USA, Canada, UK, Japan, Finland and Ireland, to mention a few.
Our Accountability

World Vision India, as an expression of its core values and commitment to the poor we serve, pursues the highest standards of accountability with regard to management of its financial and non-financial resources, programme quality and people. It is governed by a committed group of leaders from various disciplines spread throughout the country. A multi-disciplinary team of passionate and dedicated professionals manage it. World Vision's commitment to accountability is reflected in rigorous internal and external audits as well as well-designed, monitored and evaluatedprogrammes. Continuous and consistent investment in staff and community capacity is reflective of our commitment to pursuing excellence as well as long-term sustainability. Total transparency in transactions with the government and our supporters is the norm in World Vision India.
Click HERE to learn more about Worldvision India