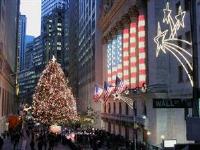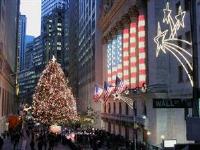 Stocks are expected to score double-digit gains in 2009, and the economy should show signs of a rebound by the third quarter, according to the majority of money managers, strategists and economists surveyed by CNBC in the final two weeks of the year.
In the most recent CNBC Trillion Dollar Survey, 69 percent of the 49 respondents said the S&P 500 could gain more than 10 percent in 2009. In that group, 26 percent said the S&P could even be up more than 20 percent. Just six percent saw negative returns, and all of those said the S&P could be down 10 percent or more.
The third quarter of 2009 should be the next quarter to show positive growth for the U.S. economy, according to 51 percent of respondents. Another 22 percent said they expect positive growth in the fourth quarter, while 18 percent see it earlier, in the second quarter. Six percent do not expect positive GDP until 2010.
The government is viewed by 73 percent of respondents as being on the right track in the way it is addressing the financial crises, but the Obama administration is expected to handle it better. Fifty-three percent expect the Obama team to do a better job than the current administration, while another 38 percent expect it to be about the same. Just 9 percent believe the new Administration will be worse.
If US Federal Reserve Chairman Ben Bernanke were to receive a grade for his efforts, those surveyed would give him a weighted B- or 81.6 percent, slightly worse than the B he received in February in an earlier survey. Treasury Secretary Hank Paulson, though, gets a solid C, or 73.3 percent. He wasn't graded in earlier surveys.
Respondents expect oil to average $50 to $75 a barrel in 2009 by 56 percent, while 42 percent see it in the $30 to $50 range. Not one participant expected oil to average above $75 per barrel, while two percent saw it at less than $30.
The Fed funds rate, now effectively at zero, is expected to stay that way in 2009 by 18 percent of respondents. But the majority see it moving higher. Twenty-nine percent expect it to be at 0.25. Another 14 percent see it at 0.50 percent, and 18 percent expect it to be 1 percent. Just 15 percent expect it to be higher than 1 percent.
History
The S&P 500 was down 38.5 percent for 2008, beaten down by the financial crises and sinking economy. Expectations a year ago,  however, were still fairly positive. Respondents to a survey, released Jan. 3, 2008, mostly expected stocks to be higher by the end of 2008.
Five percent expected an unchanged market and just 8 percent expected the S&P to be lower. Twenty-five percent expected the S&P to be higher by 10 percent or more.
Read the full article HERE