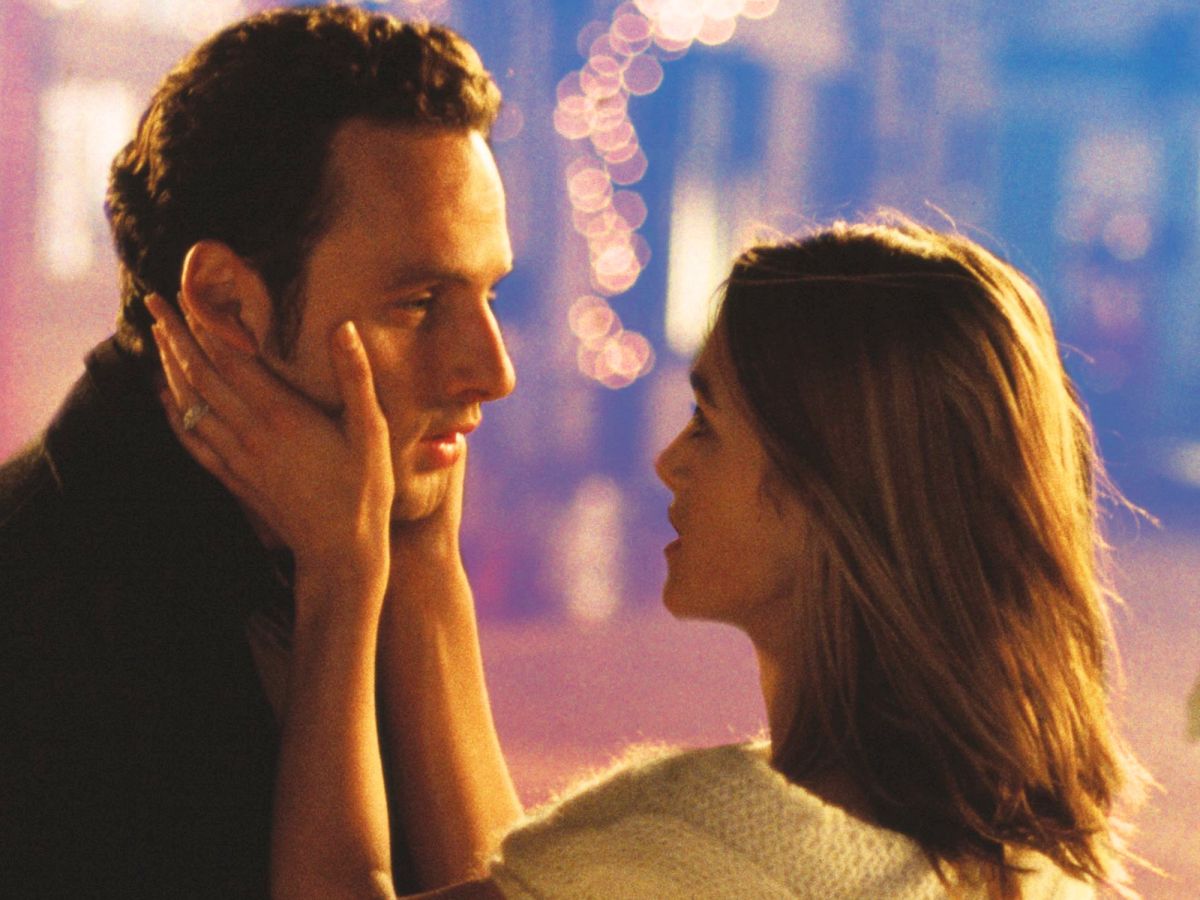 Photo: Courtesy of Universal.
Christmas is almost here, which means our nights are quickly filling up with either gift exchanges, shrimp ring consumption, or repeated viewings of our favourite holiday classics (or all of the above, if the night is perfect).
So, because the best part of any and all holiday movies are the tears of joy they tend to induce, we've gone through our own collections to find the quotes that pulled at our heartstrings the most. Even better, we've covered the whole scope of Christmas movie possibilities. After all, one person's cry fodder is another person's comic relief, so from comedies to action films and old-fashioned family films, we've got the festive bases covered so that no one will be deprived of the warm, fuzzy feelings that make the holiday season so special.
So happy holidays, yippee-ki-yay, and please pass the tissues. Here's how we think movies have best summed up the most wonderful time of year over the last couple decades, regardless of where you are, what you're doing, or who you're surrounded by.
The Year Without a Santa Claus(1974)
Snow Miser (Dick Shawn): So, Mrs. C., how's your hubby?
Mrs. Santa (Shirley Booth): Not too good, Snowy, he's got a bad cold.
Snow Miser: Aw, that's a shame. He should've come to see me, I'd have given him a good one.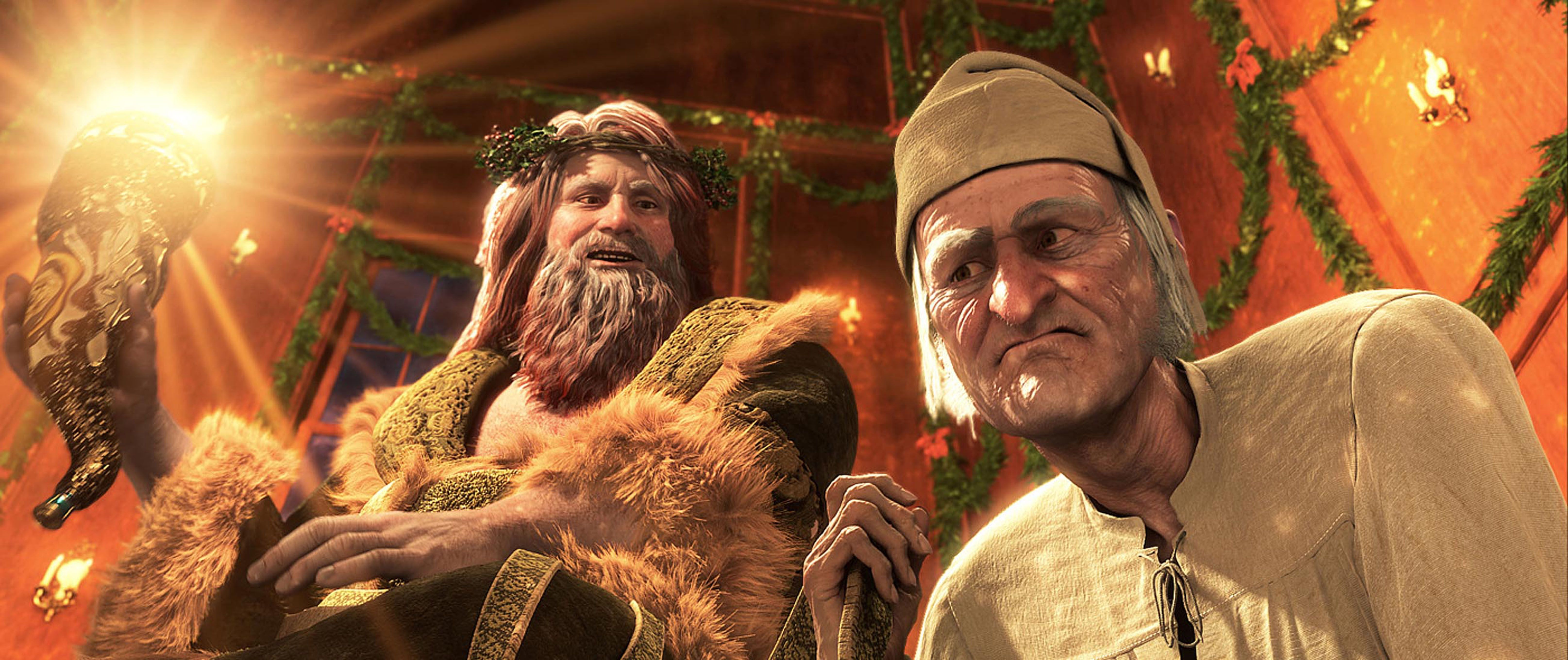 A Christmas Carol
Fred: "Though it has never put a scrap of gold or silver in my pocket, I believe that it has done me good, and will do me good; and I say, God bless it!"
You're allowed to stick up for the Christmas spirit!
Moviestore Collection/REX/Shutterstock
Planes, Trains & Automobiles
Del: "You wanna hurt me? Go right ahead if it makes you feel any better. I'm an easy target. Yeah, you're right, I talk too much. I also listen too much. I could be a cold-hearted cynic like you, but I don't like to hurt people's feelings. Well, you think what you want about me, I'm not changing. I like…I like me. My wife likes me. My customers like me. 'Cause I'm the real article. What you see is what you get."
True, this John Hughes classic is technically about Thanksgiving. But if you don't think Christmas dictates the same desperate need to make it home in time for dinner, you've got another thing coming.
Home Alone
Kate: "This is Christmas. The season of perpetual hope. And I don't care if I have to get out on your runway and hitchhike. If it costs me everything I own, if I have to sell my soul to the devil himself, I am going to get home to my son."
See? Christmas: the season of doing whatever it takes to be with the people you love.
Home Alone
Kevin: "This is extremely important. Will you please tell Santa that instead of presents this year, I just want my family back? No toys. Nothing but Peter, Kate, Buzz, Megan, Linnie, and Jeff. And my aunt and my cousins. And if he has time, my Uncle Frank. Okay?"
And when you think about how sociopathic Kevin's Uncle Frank was, Kevin's request is even more heartwarming and tear-inducing.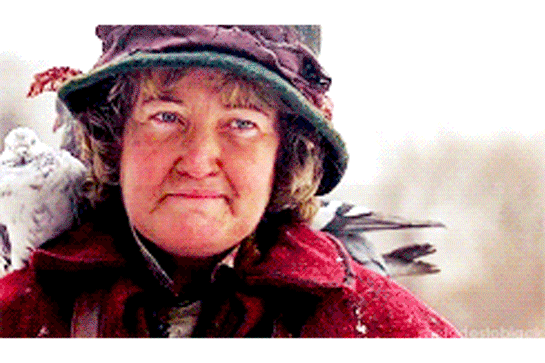 Home Alone 2: Lost In New York
Kevin: "If you won't use your heart, who cares if it gets broken? If you just keep it to yourself, maybe it'll be like my rollerblades. When you do decide to try it, it won't be any good. You should take a chance. Got nothing to lose."
Regardless of the fact that 10-year-old Kevin doles this advice out to a middle-aged bird woman (who abandons civilization after a bad break up), he speaks the truth. And in another world, I like to think that she and the old man from the original Home Alone would've made a beautiful pairing.
Image: Via tumblr.
It's A Wonderful Life
Clarence: "Strange, isn't it? Each man's life touches so many other lives. When he isn't around, he leaves an awful hole, doesn't he?"
To repeat to yourself on your worst of days, regardless of season.
It's A Wonderful Life
Clarence: "No man is a failure who has friends."
I'm not crying. You're crying. Don't look at me.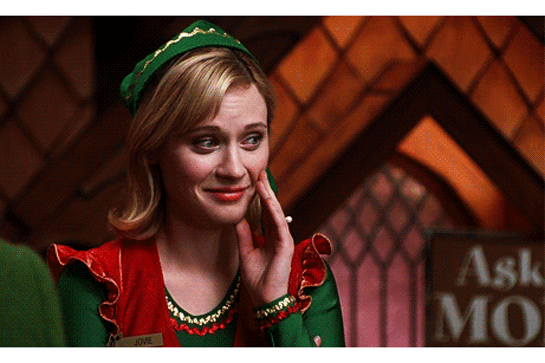 Elf
Buddy: "I think you're really beautiful and I feel really warm when I'm around you and my tongue swells up. So…do you wanna eat food?"
Probably the only realistic depiction of dating in holiday movies.
Photo: Courtesy of New Line.
Love Actually
Prime Minister: "Whenever I get gloomy with the state of the world, I think about the arrivals gate at Heathrow Airport. General opinion's starting to make out that we live in a world of hatred and greed, but I don't see that. It seems to me that love is everywhere. Often, it's not particularly dignified or newsworthy, but it's always there. Fathers and sons, mothers and daughters, husbands and wives, boyfriends, girlfriends, old friends. When the planes hit the Twin Towers, as far as I know, none of the phone calls from the people on board were messages of hate or revenge — they were all messages of love. If you look for it, I've got a sneaky feeling you'll find that love actually is all around."
And frankly, Alan Rickman's character should've been forced to read this monologue for every minute he thought about cheating on Emma Thompson, thank you very much.
Love Actually
Daniel: "Sam, you've got nothin' to lose and you'll always regret it if you don't. I never told your mom enough. I should have told her every day, because she was perfect every day. You've seen the films, kiddo. It ain't over 'til it's over."
The only Liam Neeson-delivered monologue more emotional than his "set of skills" speech in Taken.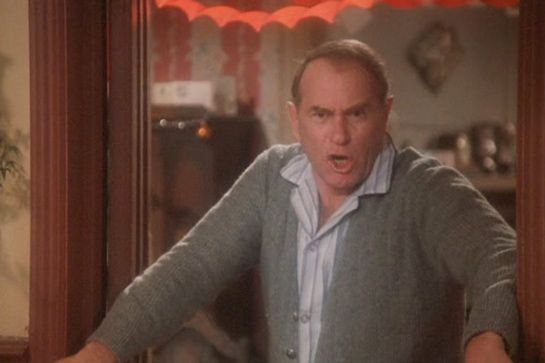 A Christmas Story
Ralphie: "My father worked in profanity the way other artists might work in oils or clay. It was his true medium, a master."
For those of us whose dads' affinity for cursing reminds us that Christmas is coming and we're about to hear plenty of choice words for days on end.
Photo: Courtesy of MGM.

The Nightmare Before Christmas
Jack: "Just because I cannot see it, doesn't mean I can't believe it!"
Or: how to explain the spirit of Christmas despite split shifts at the mall.
Image: Via tumblr.
The Nightmare Before Christmas
Jack & Sally: "My dearest friend, if you don't mind. I'd like to join you by your side. Where we can gaze into the stars. And sit together, now and forever. For it is plain, as anyone can see. We're simply meant to be."
The most underrated Christmas carol of all.

Christmas Vacation
Frank Shirley: "Sometimes, things look good on paper, but lose their luster when you see how it affects real folks. I guess a healthy bottom line doesn't mean much if to get it, you have to hurt the ones you depend on. It's people that make the difference. Little people like you. So, Carl…whatever you got last year, add 20%."
If you're an adult who's stopped believing in Santa (so: all of us), this is the embodiment of one's grown-up Christmas wish.
Photo: Courtesy of Warner Bros.
Christmas Vacation
Clark: "Nobody's leaving. Nobody's walking out on this fun, old-fashioned family Christmas. No, no. We're all in this together. This is a full-blown, four-alarm holiday emergency here. We're gonna press on and we're gonna have the happ-happ-happiest Christmas since Bing Crosby tap danced with Danny-fucking-Kaye. And when Santa squeezes his fat white ass down that chimney tonight, he's gonna find the jolliest bunch of assholes this side of the nuthouse."
A monologue for anyone whose family is more human than they are Christmas-movie fodder. Unless, of course, you've modeled your family after the Griswalds. (Hi!)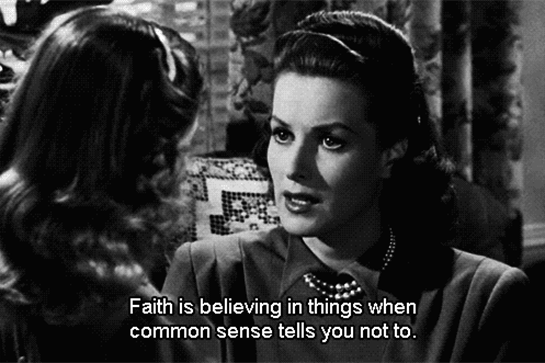 Miracle On 34th Street
Fred Gailey: "Faith is believing in things when common sense tells you not to."
Because Christmas is the only time of year anyone can be so earnest.
Image: Via tumblr.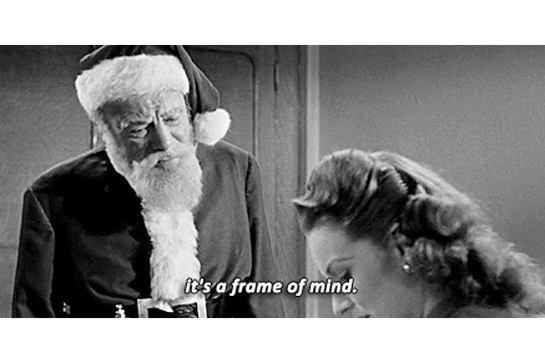 Miracle On 34th Street
Kris Kringle: "Christmas isn't just a day, it's a frame of mind."
A mantra that those of us who've worked retail wish customers would remember.
Image: Via tumblr.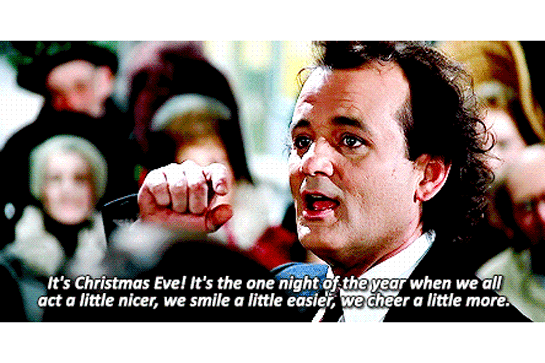 Scrooged
Frank Cross: "It's Christmas Eve. It's the one night a year when we all act a little nicecr, we smile a little easier, we cheer up a little more."
Which means that not even your aunt and uncle's questions about why you're still single won't hit home as hard.
Image: Via tumblr.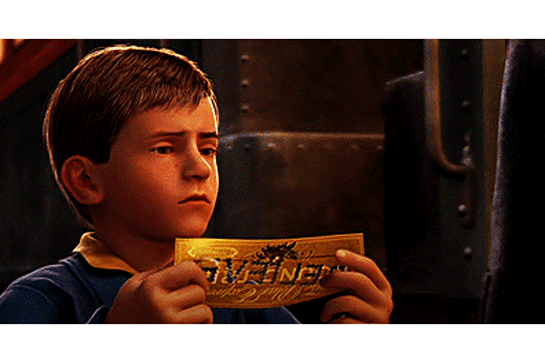 The Polar Express
Santa: "Just remember, the true spirit of Christmas lies in your heart."
So don't you dare worry about spending a minimum amount on holiday presents.
Image: Via tumblr.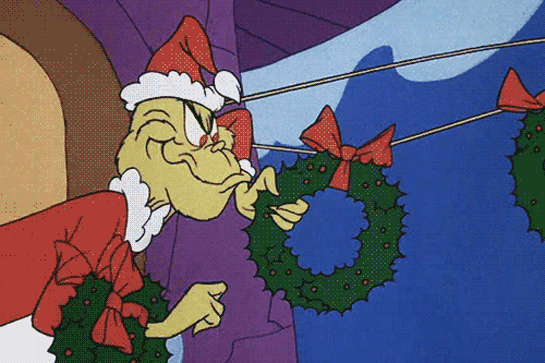 How The Grinch Stole Christmas
Narrator: "It came without ribbons, it came without tags. It came without packages, boxes, or bags. Maybe Christmas doesn't come from a store. Maybe Christmas (he thought) means a little bit more."
So go hug your friends and family immediately.
Image: Courtesy of Warner Bros.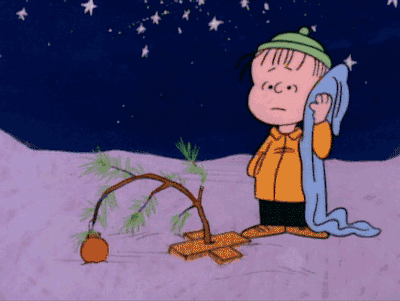 A Charlie Brown Christmas
Linus: "I never thought it was such a bad little tree. It's not bad at all, really. Maybe it just needs a little love."
Cue: sobbing quietly into one's blanket.
Image: Via tumblr.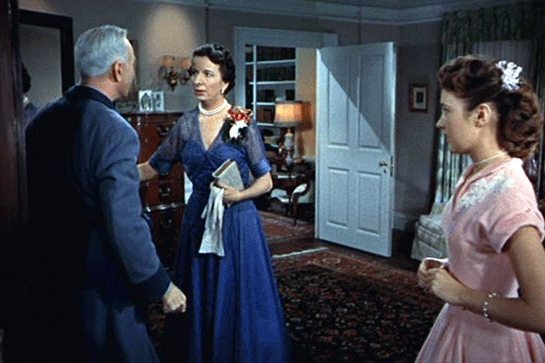 White Christmas
Emma Allen: "If I wasn't such a mean old biddy, I'd break down and cry."
Crying because she was never a mean old biddy, she was just trying her best.
Photo: Courtesy of Paramount.
A Muppet Family Christmas
Kermit & Robin: "Another crisis solved. Yeah, there sure are a lot here. Well, all families start to come together. We always get together at Christmas. Yeah, life would just pass in a blur if it wasn't for times like this."
And then they sing "Jingle Bells," which is so cute that if you don't cry, you may be a stone-cold monster.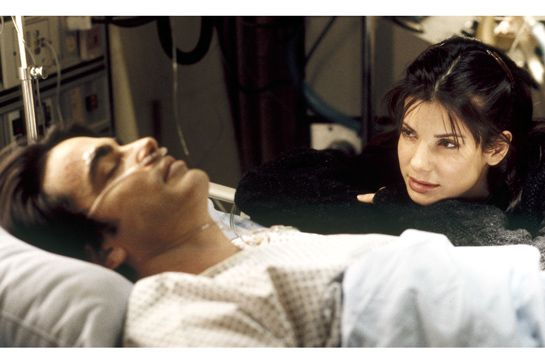 While You Were Sleeping
Lucy: "Do you believe in love at first sight? Nah, I betcha don't, you're probably too sensible for that. Or have you ever, like, seen somebody? And you knew that, if only that person really knew you, they would, well, they would of course dump the perfect model that they were with and realize that you were the one that they wanted to, just, grow old with. Have you ever fallen in love with someone you haven't even talked to? Have you ever been so alone you spend the night confusing a man in a coma?"
Or: why '90s Christmas movies are the best Christmas movies, and rom-coms should be heralded as the art form they are.
Photo: Courtesy of Hollywood Pictures.

The Family Stone
Sybil: "You did good, kid."
Because "kid" is Sarah Jessica Parker's character…who gave everyone in the family a framed photo of Sybil, who was dying of cancer, but not everybody knew it yet. (Which is why some of us left the theatre sobbing harder than we ever thought possible.)
Photo: Via tumblr.
Die Hard
John McClane: "Yippee-ki-yay, motherfucker."
Maybe the most powerful Christmas sentiment of all.
Click HERE to read more from Refinery29


Loading ...