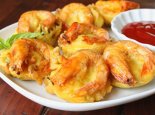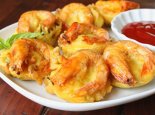 Prawn Fritters
Ingredients:
10 large prawns
1 tbsp ginger juice
Pinch of salt
Dash of pepper
A:
2 ½ self-raising flour
1 tsp Bird's eye custard powder
Pinch of salt
½ tsp bicarbonate of soda
2 ½ fl oz. water
1 tbsp oil
2 pints oil for deep frying
Cucumber
Tomatoes
Directions:
Shell prawns, leaving tail unshelled. Slit prawns halfway lengthwise and remove dark veins. Season with 1 tbsp ginger juice, a pinch of salt and a dash of pepper. Set aside.
Combine A in a bowl and mix till well blended. Stand for 5 minutes.
Heat oil in a wok. Dip each prawn into batter and fry till light golden brown. Remove to absorbent paper to drain oil and place on a serving dish. Arrange cucumber and tomato slices around edge of plate and serve.