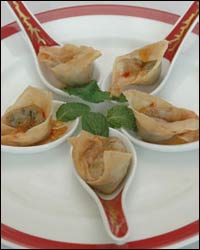 This article was last updated on April 16, 2022

With authentic and innovative preparations such as Japanese miso chicken soi mai, pan fried radish cake, tang bao, chicken and black mushroom wrapped in lotus stem, the dimsum menu is indeed a must to try out.
Fried Chicken Wonton
Ingredients
Chicken 100 gm
Spring roll sheet 8 pcs
Spring onion 10 gm
Ginger 10gm
Salt ½ t/sp
Cooking wine 1t/sp
Sesame oil ½ t/sp
Cooking oil 200gm
White flour 10gm
Method
1) Put minced chicken, salt, cooking wine, water and sesame oil.
2) Take spring roll sheet and cut into 4 pcs.
3) Add little water in white flour and prepare a batter.
4) Put chicken in the spring roll sheet, use flour and wrap it.
5) When the oil is hot, deep fry wonton until golden colour.
 
You can publish this article on your website as long as you provide a link back to this page.