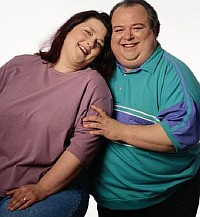 You can publish this article on your website as long as you provide a link back to this page.
This article was last updated on April 16, 2022

Is your potbelly an obstruction during intimate moments with partner? Are thunder thighs causing discomfort in sexual pleasure, keeping you away from a gratifying sex life?
If these worries hound you every time you gear up for a steamy sex session, then refer to our sex guide to help you out!
A recent study revealed that only one third of UK women belonging to size 16 have sex once in a week, compared to their size 8 counter parts who get lucky almost twice. One in every ten obese women reported about not having had sex for a year – because the thought of their partner seeing them naked harassed them mentally.
Though thin women are not always happy with their bodies, but in general they tend to be more confident in bed in comparison to their overweight counterparts, whose bedroom action is almost invaded by 'size' issues. Obesity is something, which your partner might not like, so it's justified for them to lose interest in sex.
Dr. Basheer Ahmad Roy, a Bangalore-based sex specialist states, "High obesity levels surely become a matter of concern that hinders a couple's sexual life. If you're fat, your partner will be less interested because he/she knows that sexual pleasure won't be as desired. At the same time, your physical appearance will make you hesitant and less confident, thus affecting your performance in bed."
If you are beautiful, fit and active you tend to feel confident – with or without clothes. But if you are obese, you remain conscious of your body appearance and fail to concentrate on the sexual act. Stating that it's all in the mind and there's nothing to be ashamed of, marriage and relationship counselor Geetanjali Sharma explains, "Obese people are not able to arouse and satisfy their partners and they get de-motivated in the act. It's the lack of self esteem that holds them back rather than the fact that your partner doesn't like your being fat."
The reasons behind low sex drive have often been linked to obesity. Agreeing to this, Dr Shivi Jaggi, a Delhi-based sexologist says, "Obese men face a reduced blood circulation and this obstructs proper erection. Also, social factors like physical looks, body shape etc., which attribute to your partner's interest in you, further affects your sexual experience."
Moreover, the problem of obesity kills the drive to experimentation in bed using newer techniques and positions. Body weight either makes foreplay tougher or doesn't let your partner enjoy the climax. Elucidating further, Chandigarh-based sex specialist Dr. Deepak Arora shares, "When you stick to the same postures time and again, with no scope of experimentation, boredom is obvious, which gradually mars pleasure, ultimately hitting the couple's sexual life. And with both partners being obese, enjoying the act becomes impossible for both."
Dr. Roy supports, "Sex is all about bodies getting in contact with each other. But when, obesity comes in the way of pleasure and sexual fantasies remain unfulfilled due to weighty issues, problems are ought to arise between a couple. For instance, a man may desire to lift his wife in his arms, but fails due to her excess weight. As for sex positions, obese people fail to innovate, thanks to their body shape and end up banking upon the good old missionary position."