This article was last updated on May 25, 2022
Canada:

Oye! Times readers Get FREE $30 to spend on Amazon, Walmart…
USA:

Oye! Times readers Get FREE $30 to spend on Amazon, Walmart…

Windows 8.1 gets native Facebook app (photo Stephen Pate/NJN)
Windows 8.1 installs easily and the first new app in the Microsoft Store is Facebook
I was going to make my first story on Windows 8.1 about the update – it was a charm – but once its up and running who cares?
The big news is a native Facebook App and its free. Facebook has stepped up to the table with a native Windows 8.1 app that looks attractive and improves on the Apple iPad and Android apps.
For the past year Facebook fans have put up with an Internet Explorer version of Facebook. OK it was alright but a native app is better.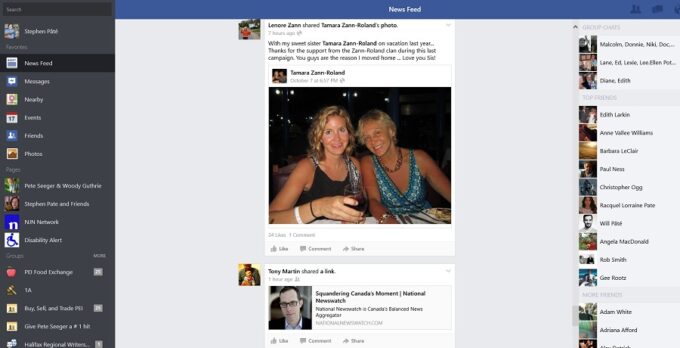 Facebook app Home in Windows 8.1 (Photo Stephen Pate/NJN)
The app automatically takes up the full screen, although you can share it with other apps with Windows 8.1′s new split screen.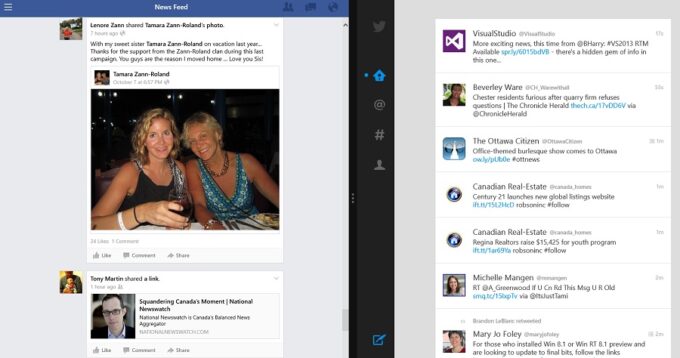 Splitting the Windows 8.1 screen with Facebook and Twitter (Photo Stephen Pate/NJN)
Facebook took the time to write this app and it seems to integrate with Windows 8.1. Charms Settings in Windows 8.1 takes you to the exact screen in Facebook settings. That's rare for apps.
I would like to write more but I have to go and explore Facebook. It's faster and cool. Get Windows 8.1 you will love it.
Windows 8.1 free upgrade

Windows 8.1 is a free update for Windows 8 users, available on the Windows Store starting October 18, 2013. Users of Windows 7 and earlier versions can buy Microsoft Windows 8.1 – Full Version for $120, available on pre-order from Amazon.com.
Here's a tip. If you don't already have Windows 8.0, you can save some money by finding a discounted copy of Windows 8.0 upgrade and get the update free. Amazon.com still has Microsoft Windows 8 Pro – Upgrade for $85.
You can publish this article on your website as long as you provide a link back to this page.