This article was last updated on May 27, 2022
Canada:

Oye! Times readers Get FREE $30 to spend on Amazon, Walmart…
USA:

Oye! Times readers Get FREE $30 to spend on Amazon, Walmart…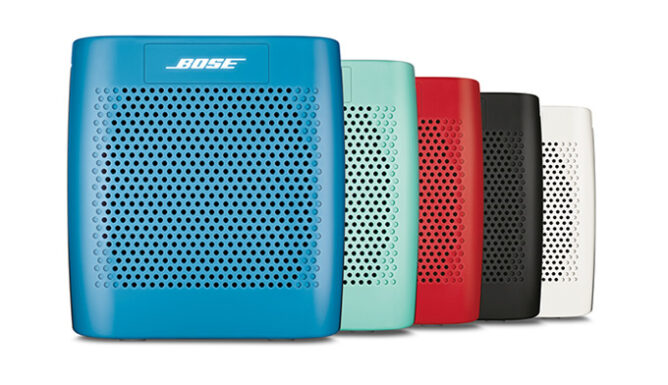 The Bose SoundLink Color is everything I wanted in a Bluetooth speaker – sounds great, portable, long battery life and easy connection to a phone or tablet
By Stephen Pate – After years of frustration with Bluetooth speakers that could not or would not work with my iPhone, Windows Phone or iPad I finally found one that works every time.
The Bose SoundLink Color Bluetooth Speaker is perfect. The music sounds very good for a small device. It's easy to carry in your hand. The battery seems to last a long time. And it connects automatically to any Bluetooth device within range.
I should have known Bose would have the right speaker. We have relied on Bose since the 1960s for great speaker performance. My daughter still has the Bose Accoustimass II I bought 20 years ago. The Bose SoundDock Portable has outlasted the iPad it was purchased with 4 years ago, despite being dragged here and there all over the house by 2 teenagers who thought it was a dedicated shower speaker.

I was not that smart on the Bluetooth speaker decision and bought a series of lower priced Bluetooth speakers assuming it didn't matter. But it does.
Who wants to listen to music that keeps breaking up, or the sound is distorted?
My biggest gripe about Bluetooth speakers is trying to get them to connect with your phone when you want to listen to a YouTube video and it takes longer than the song to make it work. Most of them sound better than an iPad but not by much.
I read the reviews on Amazon.com for Bose SoundLink Color, Bose SoundLink Mini Bluetooth Speaker, and SONOS PLAY:1 Compact Wireless Speaker for Streaming Music. The SoundLink Mini was too large to carry in one hand. The Sonos is nice but also a little too big to sit on a window sill and bulky to carry in one hand.
Taking the plunge I ordered the Mint colored Bose SoundLink Color from Amazon.com. The speaker comes in 5 colors so I picked the Mint.
When it arrived I took it out of the box looked for an instruction book but there was only a Quick Start booklet. Charging was simple and only took a short time.

I liked the feel of it. The speaker is easy to hold in one hand and has a rubber strip all around that makes the grip feel secure. I touched the obvious on/off button and the SoundLink Color started to talk,
"Stephen, Stephen's Bobster."
It was calling out the names I had given my phone and iPad. Weird but I realized by the new light that I was connected. Turn on the music and it worked.
Other than turn the volume up and down, that's all there is to the SoundLink Color, just touch power and it connects to near devices automatically.
It connects to more than one device at a time and all I do is walk up – OK in my case wheelchair up – to it and turn it on to listen to music. Some people complain the SoundLink Color does not act as a speakerphone. I knew that ahead of time.
The connection is very persistent. I have not had a problem with connections in over a month even when I move away from the speaker. I would guess the real range is under 12 feet but it plays when I leave the room and is playing when I come back. Works for me.
As for sound, the SoundLink Color is very musical. I am very fussy about speakers. In my studio I have a pair of Dynaudio's plus Neumann K+H O 310's. For listening to music with the SoundLink Color, I don't hear distortion or artifacts. Obviously, it does not have the bass or high definition of studio monitors but its more than enjoyable for listening to the MP3 music we get on portable devices and YouTube videos.
The SoundLink Color handles rock male and female voices, country, ballads, jazz, classical orchestral, almost anything I listen to. All in all, I am very happy with the SoundLink Color. I waited more than a month to write this review in case it developed any problems but nothing happened. It just works every time I want to hear music from my phone or tablet. At this point in time I call it the perfect Bluetooth portable speaker.
You can find the Bose SoundLink Color at electronics stores almost everywhere. I like Amazon for the price, service, free freight and user reviews. In Canada Bose SoundLink Color is available from Amazon.ca.
Follow NJN
Twitter – @sdpate
Facebook at NJN Network
Add the NJN icon to your desktop
Subscribe and get new stories by email
You can publish this article on your website as long as you provide a link back to this page.