First week sales of Taylor Swift new CD were 1.21 million – a sales record for the past decade
Taylor Swift is pulling out all the stops promoting her new CD "Red".
In the past week, Taylor Swift discussed her dating woes with Katie Couric. She danced on Dancing with the Stars and sang the title song on Letterman. Next year she starts a North American tour.

Taylor Swift on "Dancing with the Stars"
Since her new CD "Red" was released last week, Taylor Swift has sold a record 1.21 million copies of the new cd including digital downloads.
"Red" is a cross between the country songs of her earlier recordings and a more pop sound engineered by hit-makers Max Martin, Shellback, Jeff Bhasker, and Dan Wilson. Long-time country producer and Swift collaborator Nathan Chapman produced half the album.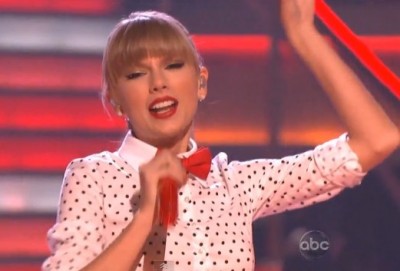 It's no accident the album is a best seller. Taylor Swift has millions of fans.
She caters to her fans slavishly and she markets herself and her products relentlessly.
People lined up at stores and on iTunes at midnight to get the new CD the minute it was available.
Fans can pick up "Reds" as a $9.99 now $14 CD at Amazon.com or digital download Red for $8.
There are special 22 track editions at Wal-Mart and Target, discounted with Papa John's pizza, and with a pair of Keds "Red" sneakers at Nordstrom.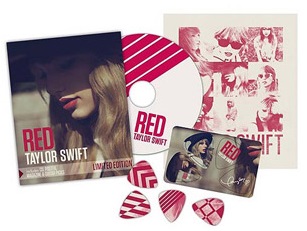 The Wal-Mart $14.99 special edition is called a "ZinePak" with a poster, 96-page Taylor Swift magazine, 4 "Red" guitar picks and a post card.
By Tuesday last week, "Red" had achieved #1 album status on iTunes. This week it has slipped into #4 place, replaced at the top by Meek Hill "Dreams and Nightmares."
After being #1 on Amazon.com for weeks, "Red" has slipped to #2 in CD's and digital downloads. Neil Young "Psychedelic Pill" replaced Red at #1.
The fall-off from the top is the result of heavily marketing "Red" in pre-release. Those sales occur in first week resulting in the phenomenal 1.21 million sales numbers.
If her label Big Machine has anything to do with it, the album will climb back up to #1 through relentless marketing and promotion.
"Red" is great music and very listenable but that's not enough to meet high sales targets.
| | MP3 | CD | Vinyl |
| --- | --- | --- | --- |
| | MP3 | CD | Vinyl |
| Amazon.com | | | |
| | | | |
| Amazon.ca (Canada) | | | |
Red Tour
Taylor Swift announced on Monday she is beginning a 7-month North American Red tour on March 13th, 2013 in 29 states and 3 Canadian provinces. Singer and songwriter Ed Sheeran will join her on the tour.
Expect to see Taylor Swift appearing everywhere on television and the internet as she rolls out the "big machine."
Who says musicians can't sell CDs anymore? The answer might be that quality and promotion sells.

Taylor Swift – Red on The Late Show with David Letterman
Taylor Swift Red Tour Cities and Dates
The tour schedule is:
March 13 and 14: Omaha, Neb.
March 18 and 19: St. Louis, Mo.
March 22: Charlotte, N.C.
March 23: Columbia, S.C.
March 27, 28 and 29: Newark, N.J.
April 10: Miami, Fla.
April 11 and 12: Orlando, Fla.
April 18 and 19: Atlanta
April 20: Tampa, Fla.
April 25: Cleveland
April 26: Indianapolis
April 27: Lexington, Ky.
May 4: Detroit
May 7: Louisville, Ky.
May 8: Columbus, Ohio
May 11 and 12: Washington, D.C.
May 16: Houston
May 21: Austin, Texas
May 22: San Antonio, Texas
May 25: Dallas
May 28 and 29: Glendale, Ariz.
June 1: Salt Lake City, Utah
June 2: Denver
June 15: Toronto (Canada)
June 22: Winnipeg, Manitoba (Canada)
June 29: Vancouver, B.C. (Canada)
July 6: Pittsburgh.
July 20: Philadelphia
July 27: Foxborough, Mass.
Aug. 1: Des Moines, Iowa
Aug. 2 and 3: Kansas City, Mo.
Aug. 6: Wichita, Kan.
Aug. 7: Tulsa, Okla.
Aug. 10: Chicago
Aug. 15: San Diego
Aug. 19 and 20: Los Angeles
Aug. 27: Sacramento, Calif.
Aug. 30: Portland, Ore.
Aug. 31: Tacoma, Wash.
Sept. 6: Fargo, N.D.
Sept. 7 and 8: St. Paul, Minn.
Sept. 12: Greensboro, N.C.
Sept. 13: Raleigh, N.C.
Sept. 14: Charlottesville, Va.
Sept. 19, 20 and 21: Nashville, Tenn.
For more tour details see TaylorSwift.com
By Stephen Pate, NJN Network