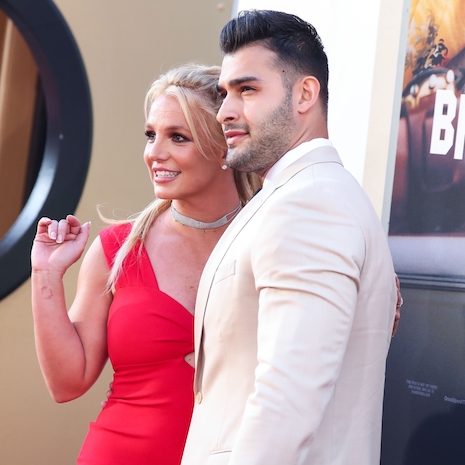 This article was last updated on August 18, 2023
Canada:

Oye! Times readers Get FREE $30 to spend on Amazon, Walmart…
USA:

Oye! Times readers Get FREE $30 to spend on Amazon, Walmart…
Madonna reschedules tour and plans to bring Britney Spears as a surprise guest
Madonna has just rescheduled her worldwide tour and she wants to bring Britney Spears along for the ride! The women both made headlines recently: Madonna had an infection which landed her in the ICU and forced her to postpone her tour, and Britney because her husband Sam Asghari just surprised everyone by filing for divorce!
The two singers have been close for years and Madonna was one of the few celebrity guests at Britney's wedding to Sam last year. An insider says that Madonna wants to cheer Britney up and thinks she would be the PERFECT surprise guest for her concerts where they'll reenact their infamous KISS from the 2003 MTV Video Music Awards. Sounds like a fun way for Britney to forget her troubles.
Madonna's Tour Rescheduled Due to Infection
Madonna's worldwide tour was put on hold recently when she was hospitalized for an infection. The pop icon was admitted to the ICU, causing her to postpone the tour until she fully recovers. This unexpected turn of events left fans disappointed, but Madonna's health and well-being are of utmost importance.
Britney's Divorce Surprises Everyone
Just when fans thought things were going well for Britney Spears and her husband Sam Asghari, news broke that Asghari had filed for divorce. The couple tied the knot last year, and their relationship seemed to be going strong. The sudden split has left many fans shocked and concerned for Britney's emotional well-being.
A Bond That Withstood the Test of Time
Madonna and Britney Spears have been friends for years, despite the ups and downs in both of their personal lives. Madonna attended Britney's wedding to Sam Asghari, showing her support for the couple. Their friendship has remained strong, and Madonna now wants to lend a helping hand to her troubled friend.
A Surprise Guest to Lift Britney's Spirits
In an effort to cheer up Britney, Madonna has come up with an exciting plan. She wants to feature Britney as a surprise guest during her rescheduled concerts. The highlight of their performance will be a reenactment of their infamous kiss from the 2003 MTV Video Music Awards, a moment that became one of the most talked-about incidents in VMA history.
A Fun Escape from Troubles
Madonna believes that this surprise collaboration will be a fun way for Britney to forget her troubles, even if just for a little while. The two singers have always had great chemistry on stage, and their reunion is expected to be a highly anticipated event.
Looking Ahead
As Madonna continues her recovery and prepares for her rescheduled tour, fans eagerly await the announcement of the concert dates. The addition of Britney Spears as a surprise guest is sure to generate even more excitement for the tour.
You can publish this article on your website as long as you provide a link back to this page.