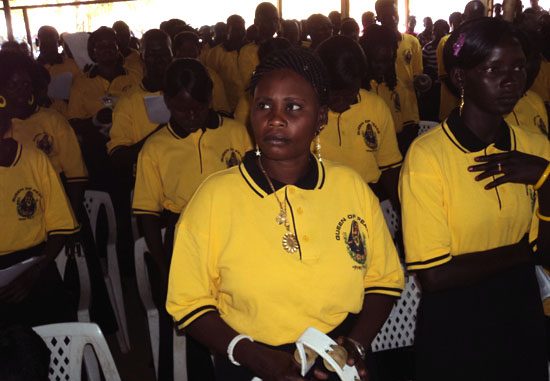 While addressing thousands of congregation on Christmas Day last Sunday at Catholic Diocese of Torit in Eastern Equatoria State, Bishop Johnson Akio Mutek called on South Sudanese across the country to peacefully celebrate the 2011 Christmas Day as the first time since attaining independence.
He further urged them to cheerfully start the New Year with open and peaceful hearts.
The Bishop asked the South Sudanese populace to be friendly to each other and co-exist if the world is to perceives them as people with dignity after voting for secession and now self determination.
He noted that this year's Christmas is historic and urged the South Sudanese Christians to treat it in a special way because they have just come out of slavery. "This Christmas is special because we had been in slavery until we succeeded this year by becoming a sovereign nation," the Bishop added.

Akio said, "This peace belongs to you and it's upon you to destroy or to continue rebuilding for new generations to adapt."

He repeated that Christmas is a joyful day as we would wish to shake our hands and exchange greetings while smiling as a sign of love and unity.
As a sign of unity, the former EES Governor, Mr. Aloisio Emor Ojetuk who sat next to the present State Governor Hon. Louis Lobong Lojore, read the first reading before the congregation, in what the State citizens viewed as a sign of reconciliation among opponents.

The Bishop urged all South Sudanese to demonstrate diplomacy to the world, he also called for discipline among the people.