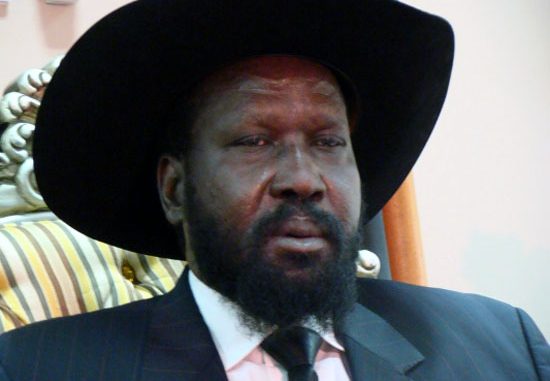 President Salva Kiir Mayardit last Sunday called for peaceful Christmas celebrations taking place across the new nation and urged police forces to take charge during the festivities.
Christmas Eve prayers were held at both Kator Roman Catholic Church led by archbishop Paulino Lokudu and Episcopal Church's main cathedral at Mabil in Juba led by Daniel Deng Bul, with many other Christians attending prayers in different churches.
With a festive mood on the streets of the country's capital Juba on Saturday, market areas and shops remained congested with residents busy with last minute shopping, as police authorities urged members of the public to be careful when using roads.
"We have advised that people should continue to abide by traffic rules and regulations during Christmas and New Year holidays," said General Acuil Tito Madut, Inspector General of South Sudan's police service, in a statement released to the media on Sunday. He also warned the drivers against alcohol consumption.
In a statement to all media houses, President Salva Kiir Mayardit said all Christians in the new nation and all over the world were celebrating the birth of the Christ and must remain calm throughout during celebrations.
He called on the security organs specifically police forces to take charge of the situation.
"We thank the Good Lord for giving us another opportunity for the joy that comes with the festive season. As Christians, the birth of Christ means a lot because it is the day that salvation came to us."
He said the said the season is the time when Christian's give to the poor and the needy people in the society. "Let us also seize the moment and give so that the Good Lord will also forgive our sins. Let our thoughts and deeds reflect our Christian belief," Kiir said.
The president urged people to ensure that the joy of the birth of the Christ should not be turned into sorrow due to alcohol-related traffic accidents. "Most importantly, let us not turn our roads into death camps. If you drink, do not drive. If you drive do not drink", he advised.
The South Sudan's head of police Gen. Acuil Tito Madut said that there was a tendency among some drivers to handle vehicles when drunk during the holidays.
He said this situation has caused many accidents adding that extra police officers had been deployed on the roads during celebrations. There were speed radars, he said, to check those speeding especially on the highways and alcohol tests will also be conducted on suspected drunk drivers.
"We have enough patrol vehicles both in urban areas and highways leading upcountry and all over the country," he reassured.
President Kiir on the other hand wished the country's military, the Sudan People's Liberation Army (SPLA), in their respected destinations special Merry Christmas and prayed for their safety and resolve to stay behind a common purpose to protect sovereignty and integrity of the new nation.