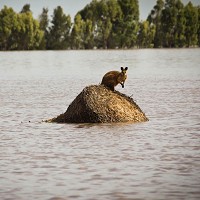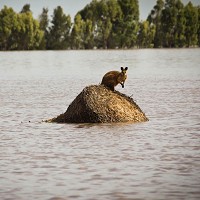 As the continent moved into Monday ahead of the rest of the world, the reports kept coming about more water. Brisbane, Australia's third largest city is sandbagging homes and building in an attempt to stem the rising tide but this may turn out to be of no avail. The ground has absorbed all the water it can so any more rain has only one place to go and that is towards the sea but with rivers already filled to capacity, that trip to the sea is just about anywhere and everywhere. The Bureau of Meteorology has said that some areas of Queensland have had more than 13 inches of rain in the past 24 hours.
The city of Gympie (
click for map
) is now at the mercy of the Mary River which has burst its banks and still rising. Muddy waters are flowing through the main street as people frantically try to sandbag various buildings. This town of 16,000 is looking at up to 80 businesses and homes currently at risk of being inundated. Police were warning people they may have to flee.
It was reported that Gympie's Royal Hotel already had 5 feet of water and more was coming. "You want to cry," the hotel's assistant manager Jess Philpot was reported to have said. "It's going to go up to the roof."
Affecting an area the size of France and Germany combined, these are the worst floods in 50 years. What began last month has now severely cut Queensland's $20 billion (£12.8 billion) coking coal export industry, starving Asian steel mills of coal and pushing up world prices.
These Christmas-New Year floods have affected more than 200,000 people and more than 10,700 properties causing an estimated $5 billion in damages.
The weather bureau forecast monsoonal rains would continue for the rest of the week with the prediction of more flash flooding. The danger is not yet over.
Click HERE to read more from William Belle.