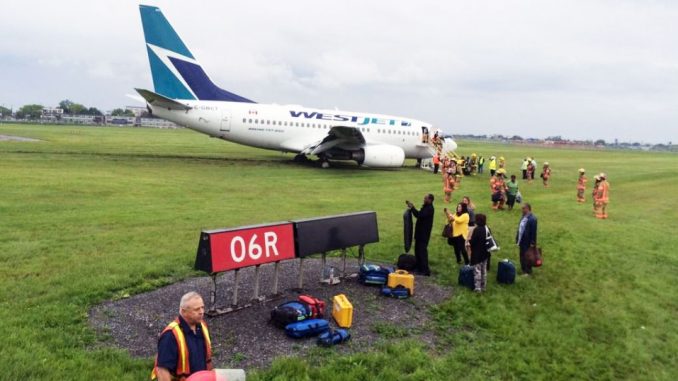 A Montreal-bound WestJet plane from Toronto slid off a runway at Pierre Elliott Trudeau Airport on Friday afternoon. According to a WestJet airline spokesperson, Richard Bartrem, all passengers and crew members are safe and the issue arose because the Boeing 737-600 landed shortly after 3 p.m. in a "heavy rainstorm." He stressed that "given the amount of rain that had already fallen … the flight crew handled themselves commendably," adding that "we know that there was nothing physically wrong with the aircraft."

Officials confirm that the plane stopped on grass approximately 15 metres from the end of the runway. One of the passengers on the plane, Greg Brown, allege that the speed of the plane seemed a little more than normal after it touched down. He alleged that "all of a sudden the plane veered off to the right" and "a little bit of a 'what if' scenario was playing in my head." However, he explained that soon the plane slowed and it was clear "we were not going fast enough that anything serious could happen." Thereafter, the pilot apologized over the public address system as soon as the plane stopped while many people got out their phones to text and tweet. Brown stated that WestJet handled the situation "very well all the way through," adding that the emergency vehicles also arrived within five or six minutes.

The WestJet flight number #WS588 left Toronto Pearson International Airport at approximately 2 p.m. and was scheduled to land at 3:13 p.m. The incident did not result in any WestJet or other flight cancellation at the Montreal airport.