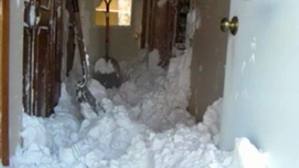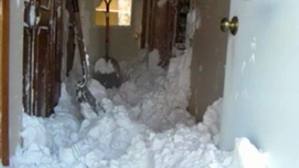 With the arrival of winter, we all expect to be shovelling snow but we expect to do it outside. For Steve and Betty Ehlers of Newell, Iowa, snow removal ended up going on both outside and inside their home.
The story is that the couple decided to go out of town for a few days to visit their daughter. Steve asked his brother Jim to check on the house, make sure the furnace was okay and see how the dog was. They had left him in their garage.

So far, so good. However when Jim showed up on December 12 to do his check, he discovered that strong winds had blown open the front door and the blizzard they were having had gotten into the house. According to Jim, there were 4 to 5 inches of snow (10 to 12 cm) across the kitchen floor. There were literally drifts in the hallway and the snow had apparently even gotten into cupboards and drawers.

As Steve and Betty headed home from their visit, Jim and his wife set about trying to clean things up. When the Ehlers arrived home, things were pretty much cleaned up but fortunately, Jim had taken pictures of the house as proof of the blizzard being in the house!
The following pictures show the inside of the house and the amount of snow everywhere. Who shovels snow on the inside?
Click
HERE
to read more from William Belle
Pictures courtesy of Ktiv.Com – December 16, 2010

Click on the pictures to enlarge them