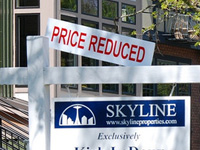 Housing prices will not get a Spring bounce and will actually fall during the industry's historically best season as buyers continue to wait for that elusive "housing bottom," according to surveys and analysis by two top Wall Street firms.

"Our monthly survey of real estate agents indicated a decline in buyer traffic in March, as buyers chose to wait for more signs of balance in the market," said Credit Suisse's Daniel Oppenheim, who surveyed 1,200 real estate agents from across the country. "We would expect additional weakness in pricing, as sellers will likely attempt to use price to sell their homes as the end of the traditional spring season nears."

It's a vicious self-fulfilling cycle as buyers continue to wait for what they deem to be a bottom, in turn, forcing sellers to lower prices even further. Prices of single family homes fell 3.1 percent year-over-year in January to just above the April 2009 low, according to the S&P/Case-Shiller Index data released last week.

"A large component of the housing decision is based on the expectation for future home prices, which are naturally a function of current conditions," said Michelle Meyer, Bank of America Merrill Lynch economist, in a note. "Until it appears that prices are bottoming, many potential homebuyers will remain on the sidelines."

Meyer estimates home prices have fallen 30 percent from the summer of 2006 until now and will fall another five percent or more this year.

Real estate agents holding open houses should put away the panini's and petit fours as the buyers nowadays are all-business investors paying upfront in cash for distressed properties in good locations, according to the Credit Suisse Survey.

"Agents noted that poorly located homes received little to no traffic, as buyers have become even more sensitive to location," said Oppenheim in his report.

Both money center and regional banks have underperformed the market this year because of their exposure to housing. The Financial Select SPDR (XLF) and the SPDR KBW Regional Banking ETF (KRE) are both up 2 percent in 2011, compared to a six percent increase for the S&P 500.

To be sure, interest rates are on the move and potential buyers may be watching that more closely than the overall prices of homes, some traders said. The yield on the ten-year Treasury jumped above 3.5% on Friday.

"You got to think that the traditional buyer is more concerned with rates," said Steve Grasso, director of institutional sales at Stuart Frankel. "Once the spring/summer kicks in, I would think many would be motivated to buy something while rates are low. Gambling that they stay low for another year is risky."

Higher rates could bring some buyers off the sidelines, but then they would have to qualify for the loans. Those banks that are underperforming the rest of the market don't want to reload their balance sheets with another round of potentially risky loans. Therefore, they are raising their lending standards. Both Credit Suisse and Bank of America both said availability of loans ultimately could be the reason why prices keep falling, not just a buyer's strike.

For the best market insight, catch 'Fast Money' each night at 5pm ET and the 'Halftime Report' each afternoon at 12:30 ET on CNBC.

Ref: http://www.cnbc.com/id/42407511

John Melloy is the Executive Producer of Fast Money. Before joining CNBC, he was an editor for Bloomberg News, overseeing the U.S. Stock Market coverage team.