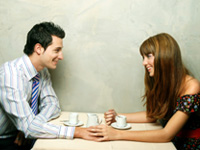 Shares of IAC/InterActiveCorp, the Internet conglomerate of 50 brands put together by Barry Diller, were upgraded Tuesday in part because of Match.com's growing appeal among older singles as well as its recent acquisition of SeniorPeopleMeet.com.
"We think the Match name is a particularly strong brand that appeals to singles in their late 20s and up," wrote David Kestenbaum, the Morgan Joseph TriArtisan analyst who upgraded the stock to 'buy.' "The economic downturn has, in a way, accelerated consumer interest in social networks and online communities. Statistics show that about 19% of all U.S. marriages have resulted from online dating. We believe the Match business should grow 11.7 percent in 2011."
IAC/InterActiveCorp added to its 2010 gains on the call with the stock up just over 8 percent on the year. The stock has been on a steady upward trend since the owner of properties such as Ask.com and Citysearch spun off several businesses including Ticketmaster and Lending Tree in 2008. In July 2009, the company acquired People Media for $80 million, which owned SeniorPeopleMeet.com, SingleParentMeet.com and 27 other targeted dating sites.
Among the definitions for "Cougar" submitted to urbandictionary.com is "an attractive woman in her 30's or 40's who is on the hunt once again." Among other possible heavy users of Match.com, SingleParent.com and SeniorPeopleMeet.com must be "Manthers," the male version of the cougar according to the site.
IAC also recently acquired OkCupid, a site used more by the younger, Facebook generation.
While online dating was feautured prominently in the report (and on the front page), the analyst did have other reasons for his upgrade of IAC. Among them is a post-recession shift of advertising dollars toward the Internet, multiple expansion and share repurchases. The analyst has a $37 price target on the stock.
For the best market insight, catch 'Fast Money' each night at 5pm ET and the 'Halftime Report' each afternoon at 12:30 ET on CNBC.
Ref: http://www.cnbc.com/id/42440026
John Melloy is the Executive Producer of Fast Money. Before joining CNBC, he was an editor for Bloomberg News, overseeing the U.S. Stock Market coverage team.