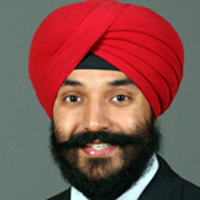 Today Liberal Member of Parliament Navdeep Bains reacted to Conservative Immigration Minister Jason Kenney's decision to cut family reunification visas by over 30%.
"This decision means keeping families apart for up to 13 years," said Mr. Bains. "We should be looking at ways to bring families together the Conservatives are out of touch with what New Canadian families need".
Mr. Kenney's announcement comes as the Harper Government looks to cut immigration by 5% overall. To meet this target the Harper Government has decided to cut family reunification visas by 5,000, from 16,000 a year to 11,000. This 30% reduction will compound existing wait times.
"These cuts will affect Canadian families across the country and will reverse decades of immigration policies from governments of different parties." said Mr. Bains. "We have a moral obligation to give our new citizens a fair start and I don`t see how keeping a family apart for 13 years helps anyone".
"The Conservative Party would rather build new prisons than reunite families," said Mr. Bains referring to the Government`s record spending prison building program. "I think it`s fair to say that their out of touch with the needs of everyday Canadians".
Article viewed at: Oye! Times at www.oyetimes.com