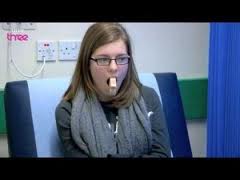 Holly Thompson, 17, a student at Northampton School for Girls in England, yawned during her Government and Politics lecture and dislocated her jaw. This left her mouth wide open and she was unable to close it. The Mirror quoted Holly as saying, "I was so embarrassed. Everyone burst out laughing, it was awful." The school nurse couldn't do anything so Holly had to visit a local hospital medical staff managed to correct her condition however the method seems unusual. They forced 26 wooden splints, about the same size as lollipop sticks, into her mouth to make it relax.
However, Holly fame has spread far and wide. The BBC television series Bizarre ER caught the incident on camera and as well as being shown on TV, a video clip ended up on YouTube. Holly in speaking with the papers said, "My friends keep saying I'm famous. I was mortified at first, but I can see the funny side now. But I'd rather be famous for something else." At the moment, YouTube is indicating that the video has now been seen 673,369 times.
BBC – Apr 4/2011
Help Me! I Can't Shut My Mouth! – Bizarre ER – BBC Three
A boring lesson takes a turn for the worse after a student yawned so wide during class that she disclocated her jaw.
Holly was worried about being famous on YouTube. Ah, the problem anybody faces in this digital age when news can be instantaneously transmitted around the world. Check out what happens when YouTube (inadvertently) makes you a celebrity and you get more than you bargained for: The highs and lows of going viral.
Yes, Holly, I hope I will be famous for something good. See My 15 Minutes and My 15 Minutes of Fat.
Click HERE to read more from William Belle
Article viewed at: Oye! Times at www.oyetimes.com